Home

»

About Us

»

Flora, fauna and fungi on the other side of our new bank notes
Flora, fauna and fungi on the other side of our new bank notes
Published: 21 November 2014 - by Judy Grindell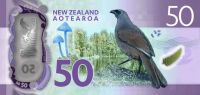 New bank note designs continue to incorporate the three Kingdoms
The Reserve Bank launched the new banknote designs on 20th November. The $50 note retains the blue Entoloma hochstetteri mushroom thanks to mycologist Peter Buchanan's lobbying of the Reserve Bank and background information to support retention of an iconic New Zealand fungi along with the birds, plants, moth and people. According to Tūhoe, the kōkako got its blue wattles from rubbing on the little blue mushroom; indeed the Māori name for it is werewere-kōkako, which is why the kōkako shares the same $50 note. [Pureora forest and Waihora lagoon in the background].
The moth on the $100 note is the South Island zebra or South Island lichen moth (Declana egregia,). The larva feeds on Pseudopanax. Lepidopterist Robert Hoare says it is a rather scarce moth (much less common than its North Island counterpart, D. atronivea) - possibly badly affected by possums' liking for its host-plant. The $100 note also features the mohua and either silver beech (Lophozonia menziesii) or red beech, (Fuscospora fusca).
Botanist David Glenny has identified plants on the $5 note as Bulbinella rossii, with the daisy-like flowers likely to be Pleurophyllum speciosum (a giant member of the daisy family found in the subAntarctic); on the $10 note we have a Blechnum fern (probably novae-zelandiae as previously) and a Dracophyllum species; and the $20 note features Marlborough rock daisy (Pachystegia insignis).
The birds are all named, as are the people (except for Queen Elizabeth) but the plants, fungi and moth are not. When the notes do appear, you will now know what is on the 'other' side.