Home

»

About Us

»

Landcare Research welcomes National Science Challenges
Landcare Research welcomes National Science Challenges
Published: 2 May 2013 - by Tom Fraser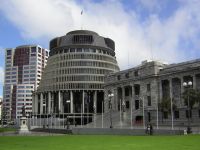 Landcare Research has welcomed the government's announcement of ten areas for special focus and additional funding as New Zealand's National Science Challenges
Crown Research Institute Landcare Research has welcomed the government's announcementof ten areas for special focus and additional funding as New Zealand's National Science Challenges.
The National Science Challenges are a new initiative to tackle the most important science-based issues and opportunities facing New Zealand by targeting a series of goals to focus future public science investment. The Government today committed $73.5 million in funding for the Challenges over four years, in addition to the $60 million already allocated to the project.
The ten research areas identified as New Zealand's first National Science Challenges are:
Aging well - harnessing science to sustain health and wellbeing into the later years of life
A better start - improving the potential of young New Zealanders to have a healthy and successful life
Healthier lives - research to reduce the burden of major New Zealand health problems
High value nutrition - developing high value foods with validated health benefits
New Zealand's biological heritage - protecting and managing our biodiversity, improving our biosecurity, and enhancing our resilience to harmful organisms
Our land and water - Research to enhance primary sector production and productivity while maintaining and improving our land and water quality for future generations
Life in a changing ocean - understanding how we can exploit our marine resources within environmental and biological constraints
The Deep South - understanding the role of the Antarctic and the Southern Ocean in determining our climate and our future environment
Science for technological innovation - enhancing the capacity of New Zealand to use physical and engineering sciences for economic growth
Resilience to nature's challenges - research into enhancing our resilience to natural disasters
Landcare Research has particular expertise in two areas identified as science challenges:
Our land and water and New Zealand's biological heritage
Our science leaders offer their thoughts:
Dr Alison Collins, Director of the National Land Resource Centre
This challenge represents one of the most significant priorities for New Zealand – how to drive economic growth from the land without undermining the health of the resources on which the growth is based.
"The challenge is to find best practice solutions and new ways of using the land that simultaneously drive production gains and protect land and water. This will require a collective science effort across farm, catchment and regional scales and a pulling together of the data, science and knowledge that sits in many agencies. Another key component will be making sure our science and the technologies and evidence that is derived from them can be more easily accessed and 'consumed' by those driving decision-making processes, best practice and innovation – increasing the need for social, economic and participatory research skills.
"Science, government and industry sectors, communities and iwi are well positioned to crack this nut given the growing willingness for a collaborative approach and the partnerships that have been built in the land and water area. The strategic changes and initiatives we've established over the last two years such as the National Land Resource Centre and the Soil & Land Use Alliance, and more recently, the Lincoln Hub, provide excellent foundations for this very critical national science challenge."
Dr Andrea Byrom; Managing Invasive Weeds, Pests and Disease portfolio leader
"New Zealand's native biodiversity is unique globally, and our primary industry and tourist sectors are highly reliant on services provided by our natural environment and on protection from harmful organisms.
"However, New Zealand's biological heritage, and the sectors that rely on it, are constantly undermined and threatened by a huge range of exotic invertebrate and vertebrate pests, weeds and exotic diseases that are already established, or which could cross our borders and become established, reducing both economic productivity and threatening native biodiversity.
"A Science Challenge that aims to protect New Zealand's biological heritage and address these critical threats recognises New Zealand's world-leading expertise in protecting and managing our biodiversity assets, and our global reputation in invasive species management.
"Such a Challenge will provide a much-needed boost to credible, evidence-based research required to maintain New Zealand's international competitiveness, branding and reputation as a clean, green economy."