Home

»

About Us

»

Holden Hohaia, our new General Manager for Māori Development
Holden Hohaia, our new General Manager for Māori Development
Published: 20 February 2017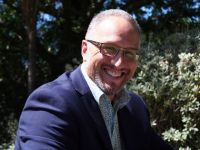 Landcare Research has appointed Holden Hohaia as its new general manager for Māori Development.
Holden, an experienced Treaty claim negotiator and Runanga chairman (Ngati Maru ki Taranaki), started in his role with the Crown Research Institute (CRI) in January.
Landcare Research is New Zealand's leading provider of land based science research and has a long history of working with iwi in fields as diverse as wetland restoration, mānuka honey productivity and expert advice on land use choices.
Holden's career includes leadership roles with Te Puni Kōkiri, the Office of the Minister of Māori Affairs, Wellington City Council, the Ministry for Social Development and NZ Post.
Landcare Research has offices in nine different New Zealand locations and employs about 350 staff.
Holden said he was looking forward to developing Landcare Research's relationships with Māori groups and helping its scientists embrace the values of tikanga Māori into their research.
"I feel very privileged to work in this role with iwi and Māori land owners. It is an exciting time as Māori look to broaden and deepen their investment in the whenua and land assets. Manaaki Whenua's core purpose as a CRI often aligns perfectly with Māori aspirations around wise and sustainable use of land. I look forward to exploring those opportunities and working in partnership with iwi and Māori to realise their aspirations for their land and the environment".