Researcher in NZ first
Published: 20 January 2016 - by Zhi-Qiang Zhang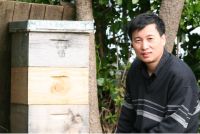 Landcare Research researcher Zhi-Qiang Zhang has been appointed to the post of Secretary-General of the prestigious International Commission on Zoological Nomenclature.
He is the first New Zealand scientist to assume the role.
"I was also the first New Zealand researcher to be elected to the commission (in 2006)," he said.
"It is recognition and gives New Zealand a voice in this international organisation."
The International Commission on Zoological Nomenclature is the "high court for animal names".
Every year scientists describe thousands of new species and the commission regulates this process and rules on disputes between taxonomists. Its core role is to make sure every animal has a unique and universally accepted scientific name.
Zhang said he was "excited" and "honoured" to be named Secretary-General.
One of his top priorities in his new job would be to ensure the commission's long term viability.
Two years ago the commission, established in 1895, was on the cusp of liquidation.
Meltdown was averted after The National University of Singapore agreed to bail out the London-based commission.
"Like a lot of science organisations we have faced a funding crisis," he said.
"We have set up a new fund and we have raised over $2 million that will act as an endowment to provide sustaining funds for the support of our second secretariat in Singapore and our journal [Bulletin of Zoological Nomenclature]."
Zhang's appointment came as no surprise to his peers. His reputation in the taxonomic world is well-established. He is the Chief Editor of Zootaxa—the foremost journal of the taxonomy in the world. He is also responsible for the naming of over 100 new species of mite.
The most recent, recorded in a paper co-authored by Bob Brown, Fan Qing-Hai, Santha France and Shaun Bennett, gives a name to a bumble bee (Hymenoptera: Apidae) mite species, Pneumolaelaps niutirani, collected from hives of honeybee Apis mellifera (Apidae) and nests of the German wasp, Vespula germanica (Vespidae). It brings the number of named mite species of this genus in New Zealand to three.