Home

»

Urban Transformations Framework
Urban Transformations Framework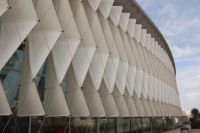 This research develops a conceptual framework identifying enablers of and barriers to urban settlements adapting to global change and reducing their vulnerability to resource scarcity.
The framework focuses primarily on the human capacity of urban transformations (individual, community and institutional) and draws together different disciplinary understandings of resilience along with socio-technical transitions theory.
The research explores;
What policy concepts & approaches are effective when there is a high degree of uncertainty and complexity over issues such as climate change and peak oil? Specifically does the concept of resilience provide a practical urban policy approach into dealing with uncertain future change?
What concepts are useful to understand urban technological transitions? Specifically does the concept of socio-technological transitions provide insights into the challenges of mainstreaming alternative urban technologies to address global change issues?
What organisational attributes and policy processes are required within policy agencies to encourage urban resilience and urban transitions?
What we are aiming to do
The research is expected to provide policy analysts with a multi-dimensional understanding of factors required to build resilience and adaptive capacity within policy organisations and urban communities and factors which might constrain urban transitions to global change.
What we will investigate and how
Methodology
Literature review of potential peak oil impacts on NZ urban settlements.
Critical review of resilience and socio-technological transitions literature.
Develop a conceptual framework of human (individual, community and institutional) adaptive capacity for change within urban settlements.
Test and refine framework through a case study of the Waitakere City Council "Eco City" transition