Home

»

Urban ecology & biodiversity integration
Urban ecology & biodiversity integration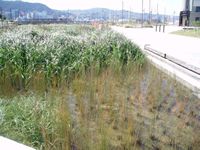 Greening of cities is a vital ingredient in providing 'nature experience' to much of New Zealand's populace. This experience, in turn, will lead to better public decision-making about the environment.
Greater knowledge and appreciation of urban natural history among the citizenry must come from a combination of scientific analysis of the environment (catching up on 100 years of vegetation survey work in wild New Zealand); presenting this information in a digestible manner; and personal observation and experience of ecological patterns and processes in gardens and reserves.
Our research develops innovative approaches to integrating indigenous nature and biodiversity into the daily lives of urban dwellers - the bulk of the population. Research projects include:
analyses of ecological patterns and processes in gardens and reserves
an online natural-history recording system characterising urban vegetation
trials incorporating native plants in urban wastelands, greenroof plantings, and greenfield developments
development and demonstration of design and construction techniques for biodiverse parks, gardens, subdivisions, and greenroofs.