Home

»

About Us

»

Children, Bees and the Trees for Bees project
Children, Bees and the Trees for Bees project
Thursday 11 Nov 2010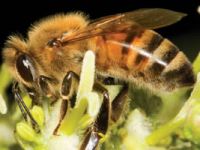 Bees are the unsung heroes of the New Zealand economy and their hard work is about to come under closer scrutiny as part of a three year project to help New Zealand prevent the types of alarming losses that are happening overseas to honey bee colonies.
Researchers for the Bee Friendly Farmer Group, botanist Linda Newstrom-Lloyd (Landcare Research) and bee specialists Tony Roper and Marco Gonzalez (AsureQuality) will use a trap to collect the pollen off bees entering their hive as they return from their travels.
"Bees mix nectar and pollen they've collected and stick it in baskets on their hind legs. By collecting and analysing these 'pollen pellets' we'll learn more about what the bees are feeding on and what kind of pollen the bees are picking up," Dr Newstrom-Lloyd says.
The collected pollen will be sent to AsureQuality laboratory where the protein content can be analysed.
"Once we know that, we can encourage people to plant species with flowers that have the highest protein levels in the pollen. "
Dr Newstrom-Lloyd says bees need high levels of protein in the pollen to survive and thrive.
"Some plants, such as pears and plums, have pollen with very high protein - over 25% - while others like pine contain just 9% protein and that's not sufficient."
Bees consume pollen for their protein and vitamins, and nectar for energy. While gathering these resources they move pollen from one plant to another, and in the process pollinate plants.
The Sustainable Farming Fund (SFF) project was recently awarded to the Bee Friendly Farming Group chaired by Ross Little and follows on from the successful "Trees for Bees" campaign launched 12 months ago by John Hartnell, Chair of Federated Farmers Bees in partnership with Landcare Research which produced ten regional guides for appropriate plants that bees love. The total amount of funding for the new project is $420,000 over three years from all partners with the MAF Sustainable Farming Fund contributing $231,875.
Dr Newstrom-Lloyd says the new research project aims to continue to improve honey bee health by increasing the availability of nutritious pollen sources by:
identifying Bee Plants that have protein-rich pollen and flower at the right times especially when there is a pollen shortage in Spring and Summer
demonstrating the use of Bee Plants that are the most practical plants for farms
encouraging farmers and others to plant Bee Plants to protect and support bees
And, another key element of the project is encouraging children to enjoy bees.
"We need to deliver a very simple message to our children - don't be frightened of bees. Children can help bees by planting flowering trees, shrubs and herbs. If bees don't have enough quality food they, just like humans, will get very sick.
"Without the bees we wouldn't have the colorful fruits and vegetables on the table. The lack of flowers for bees on farms is not unique to New Zealand. It's a worldwide phenomenon. It's a major issue in Europe and North America where programs have been established recently to promote planting good bee plants on farms and along roadsides".
Federated Farmers believe about $3 billion of New Zealand's GDP is directly attributable to intensive crop pollination by honey bees. In addition, bees also contribute indirectly through the pollination of clover, sown for nitrogen regeneration, which benefits the meat industry.
Honey bee numbers in New Zealand are increasingly threatened with the long term effects of varroa combined with the addition of a number of new diseases. Added to this is the misuse of pesticides that kill bees in gardens and on farms, the loss of habitat for shelter and the lack of flowers for bee food.
For more information on the Trees for Bees programme: