Home

»

About Us

»

Community initiatives jump following February earthquake
Community initiatives jump following February earthquake
The explosion in community driven communication initiatives following February's 6.3 magnitude earthquake in Christchurch has been highlighted through research by Crown Research Institute, Landcare Research
Tuesday 31 May 2011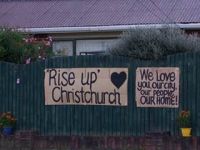 The explosion in community driven communication initiatives following February's 6.3 magnitude earthquake in Christchurch has been highlighted through research by Crown Research Institute, Landcare Research
Available free to the public online, the report

details some of the communications and initiatives - including meetings, webpages, newspaper articles - in relation to earthquake recovery and rebuilding in Christchurch and Canterbury in March and April 2011. It also provides a list of some of the individuals involved in these activities.
Researcher Helen Fitt says the document began as a way for Landcare Research to track emerging ideas on how Christchurch could, or should, be rebuilt. Activities that focus on ideas for rebuilding remain prominent in this document but, over time, the boundaries of the exercise expanded.
This expansion saw the document include a sample of other communications and activities. In particular, some websites and news releases containing practical information were added when the document was used as background for a student project by the University of St Andrews in Scotland.
"The project began as an internal resource, put together rapidly in March and April 2011, and with a focus on collecting large volumes of information relatively quickly. It used an informal snowballing methodology, following links and searches from one initiative to another," Ms Fitt says.
"We have decided to make this information publicly available to highlight the diversity of the activities in progress and to encourage individuals and organisations working in similar areas to connect with each other and continue to be aware of the different activities and communications in progress."
However, Ms Fitt says the report is not a comprehensive list of all activities underway; it is a sample and should be considered illustrative, and a useful starting point for identifying possible connections. Information was largely taken from publicly available sources and, in most cases, has not been verified beyond these sources.