Home

»

About Us

»

Dr Phil Novis to research food supplement sourced from Southland wetland
Dr Phil Novis to research food supplement sourced from Southland wetland
Friday 02 Sep 2016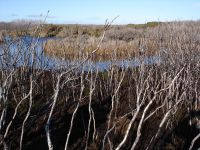 A Landcare Research scientist has been granted funding to conduct further research into the commercial potential of an alga harvested from the wild. Dr Phil Novis says the "clinically proven health benefits" of the alga mean that it offers an alternative to the health supplement fish oil.
Eicosapentaenoic acid (EPA) is a high-value, omega-3 polyunsaturated fatty acid. Novis says the alga, found in Southland's Awarua Wetland, a mahinga kai site for Ngāi Tahu, has high levels of EPA. He hopes to build on earlier work to create a commercially viable method to boost EPA levels in the alga, known as Trachydiscus Awa9/2.
Because Trachydiscus Awa9/2 is new to science and its ecology is poorly understood, Novis will conduct a field study to understand its environment and how this affects EPA production. His research will include bioreactor experiments to optimise light quality and other conditions for commercial production.
It is a high-value product, with retail prices for fish-sourced EPA worth $200 per kg. The global EPA industry is worth $450 million per year. The research is to be funded for the next 3 years by the Science for Technological Innovation (SFTI) National Science Challenge, hosted by Callaghan Innovation.
Novis said, "Ideally this research would help develop a local industry that produces purified EPA. One of its most obvious applications is as a vegetarian option for people who don't want fish oil. We may end up growing the alga for aquaculture feed. We just don't know where this will end up yet. But it's exciting to get this grant so we can explore its potential."
Ngāi Tahu is a key partner in the research. A researcher from the iwi will gather samples from the wetland and send them to Novis for testing at Landcare Research's laboratories in Lincoln. A PhD student, based at Canterbury University but originally from Iran, will also assist Novis, as will several of his colleagues at the Crown Research Institute.
Novis said, "For 16 or 17 years I have wanted to develop research aligned with Vision Mātauranga values, so I am really excited about Ngāi Tahu's involvement and the commercial viability of algal EPA."