Farmers seek biocontrol for smelly weed
Monday 15 Aug 2016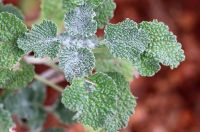 A high country sheep farmer is leading the fight against a putrid-smelling weed that reduces lucerne yields, wool quality and taints meat.
Gavin Loxton has formed the Horehound Biocontrol Group, which is working with Landcare Research, in a bid to introduce to New Zealand two moths that are proving successful biocontrol agents against the weed in Australia.
Horehound, which resembles mint, has become an increasing problem on dryland farms across the country over recent years, with conventional control methods proving futile. The weed is now recognised as one of the worst weeds in lucerne crops. Its prickly burrs also get stuck on wool, reducing its value and helping spread the weed's seed. While the weed is nontoxic and unpalatable to livestock, if consumed in large quantities it taints the meat.
Loxton - who has first-hand experience battling the weed on his 8000 hectare property, Sawdon Station, in Lake Tekapo – wants to find out how widespread horehound is, to prove the biocontrol agents are needed.
In order to do this, the Horehound Biocontrol Group is currently conducting a survey, in conjunction with Landcare Research.
Farmers are questioned about the size of the horehound infestation on their property, what control measures they're using and the effect it's having on their lucerne crops.
Loxton said preliminary responses indicated the weed was at a "tipping point".
"It's had exponential growth - it's doubling every two years - according to the surveys I've had back. We've got areas which we never used to see horehound starting to be invaded."
Loxton believed a few decent droughts over recent years had assisted the weed. With New Zealand drylands predicted to become even drier he's concerned the weed will become worse.
"Once pasture has died horehound can invade and establish quicker than more desirable pasture species. This is why the moths were introduced as biocontrol agents in Australia in 1994, because of the increasing prevalence of drought conditions."
Unfortunately survey participation has, so far, been lower than expected.
Loxton and Landcare Research are appealing for more farmers to take part to share their experience with the weed, no matter how small the incursion.
The Horehound Biocontrol Group will use the information in an application to the Ministry for Primary Industries' Sustainable Farming Fund.
"We are confident that the numbers will add up to make a strong case for investment in biocontrol," Loxton said.
Herbicides are currently the only means of control against the weed. However, they also damaged clover, lucerne, and the soil, he said.
"They leave residual chemicals that stunt the lucerne and significantly reduce yields as much as 30 per cent. If it happens to coincide with a dry year you can also lose a lot of lucerne plants.
"They're not actually solving the problem. You're simply left with unproductive land."
The herbicides were also difficult and costly to apply in high terrain, Loxton said.
One of the survey responders, Bob Clark-Hall, a North Canterbury farmer, said he had been fighting the weed for 36 years.
"The seed lasts in the ground for a very long time. You think you've beaten it but then more seeds strike. You have to hand grub deeply or it will not kill it. Spraying metsulfuron is very hard on the lucerne."
Dr Ronny Groenteman, a researcher at Landcare Research, felt farmers needed a better method.
"At the moment all farmers can do is use chemical sprays and they only manage, at best, to keep the weed from getting worse. But they're not actually managing to control it.
"At present it's a relatively small problem but it looks like it's starting to grow exponentially."
Dr Groenteman said introducing the moths, one which feeds on the weed's foliage and the other the roots, should prove be a "relatively straight-forward undertaking" given the extensive safety testing carried out in Australia before it was introduced there.
The first biocontrol agent could be introduced in as little as two years, with the cost estimated to be around $400,000.