Flax collection helping save young lives
Wednesday 23 Dec 2015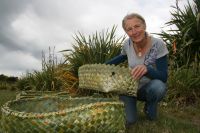 One of New Zealand's nationally significant plant collections is being used to help save babies' lives.
Thousands of leaves from Landcare Research's flax collection in Lincoln have been woven into baby bassinets, or wahakura, to help prevent sudden unexpected death in infancy (SUDI). Each year about 60 babies die suddenly while they sleep – tragically most are preventable. However, wahakura have been credited with drastically reducing SUDI deaths by 30 per cent.
Landcare Research flax collection curator Katarina Tawiri was approached to help with the wahakura project, an initiative of Te Puawaitanga ki Ōtautahi Trust - a Christchurch Māori health, education and social services provider.
Tawiri, an experienced weaver, leapt at the opportunity. Alongside Ngāi Tahu weaver Daphne O'Connell she helped run workshops to teach midwives and expecting Māori and Polynesian mothers how to make the bassinets. Other local weavers also donated their time to assist in an attempt to reach their target of 170 wahakura.
The project, one of many around the country, aims to help Māori and Polynesian women who are most at risk of SUDI. Māori account for over 60 per cent of SUDI rates in New Zealand.
"Traditionally Polynesian and Māori like to have their baby with them in bed. Wahakura allow parents to continue doing this but keep baby safe. They are such a simple solution to preventing unnecessary deaths," she said.
While the style of wahakura woven today are not a traditional item, Tawiri said Māori felt "connected" to them because of their traditional material and the fact they were hand-made.
"Harakeke was and possibly still is one of the most important plants to Māori," she said.
Flax has been the main fibre used by Māori to make everything from clothes through to food baskets. Historically, Māori were known to hang woven baskets from rafters to keep babies off the ground, she said.
Tawiri said the extensive range of flaxes available through the collection provided valuable insights into which species worked best for making wahakura. She plans to share this information by producing a set of guidelines for weaving wahakura.
The wahakura project, funded by the Red Cross, will continue next year.