Home

»

About Us

»

Fun new 'App' to bring pest control into the electronic world
Fun new 'App' to bring pest control into the electronic world
Friday 20 Dec 2013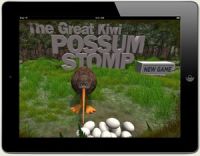 A just-released downloadable smartphone 'App' will provide enjoyment this summer and alert the user to the plight of New Zealand's native birds. It is also set to be a precursor of new tools to challenge how New Zealanders think about pest control.
'Possum Stomp' is a fun game where a kiwi tries to protect its nest from zombie possums, and is a teaser for a wider educational online game called 'Ora' that will be introduced in 2014.
"In 'Possum Stomp' the player helps the Stompy the Kiwi to run around and stomp on the zombie possums before they steal his eggs. The zombie possums represent all invasive pests and the kiwi represents New Zealand's indigenous biodiversity," researcher Pen Holland says.
Meanwhile, when the game 'Ora' is released in 2014 it will allow players to undertake pest control operations by selecting and utilising a range of different methods, and teach them how to measure the outcomes of their choices.
However, for every decision taken by the player, there will consequences, says researcher Bruce Warburton.
"One of the main aims is to teach people about the complexities of managing pests in New Zealand. If people don't want to use a particular tool, say 1080, they don't have to but there may well be consequences related to budget, biological, or regulatory constraints."
Landcare Research mathematical models developed by Pen Holland run underneath the game and show participants what would happen to the forest canopy as a result of the pest strategies they choose.
"Some people may choose to kill nothing and Pen's model will show how the canopy of the forest will decline from possums eating it," Bruce says.
"Therefore, that will be the consequence of that player's decision."
The gaming environment marks a significant change in how science can be translated from research to the public and both researchers are hoping the gaming medium proves to be effective.
"It's educational but we're also going to observe peoples' strategies for pest management and use that to understand public perceptions as well as crowd-source some specific management solutions," Pen says.
Development of the Ora and Possum Stomp games are also an element of a wider research programme led by Bruce aimed at developing new technologies for pest control.
"We need to ask ourselves why do all this research on new technologies if the public don't know about them or more importantly don't accept them? So, it's about engaging communities in discussions and decisions about different pest control options, but we want people involved in discussions to be informed and one way of informing them is by playing games.
"Currently we present our science in boring scientific papers and contract reports which few people know about or read, and the challenge is how we can better transfer that knowledge. The gaming method is one option that can reach a lot of people and make it personal."
The game has been developed in collaboration with Hazel Bradshaw, a PhD student at the Human Interface Technology Lab (University of Canterbury), who is studying how the gaming environment can be utilised for knowledge transfer.
The App costs $1.29 to download and all revenue will go towards the development and running of the Ora project.