Home

»

About Us

»

Landcare Research welcomes Government science announcement
Landcare Research welcomes Government science announcement
Monday 29 Apr 2013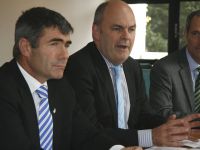 Landcare Research is welcoming the Government's announcement of the creation of a science 'hub' at Lincoln, near Christchurch.
The Lincoln Hub proposal was put to the government by five partner organisations – AgResearch, DairyNZ, Landcare Research, Lincoln University and Plant and Food Research.
Today's announcement gives the green light to the partners to develop a new model of working together, jointly investing in and aligning resources wherever possible (both capability and infrastructure) to deliver more science-led innovation, faster technology transfer and greater adoption and practice change to the land-based sectors.
Chief executive of Landcare Research, Dr Richard Gordon, says the creation of the hub offers a unique opportunity both nationally and on a global scale.
"Not only here in New Zealand but around the world there is increasing pressure on finite land resources and pressure to produce more from land. At the same time there's increasing pressure to ensure that the quality our natural environment and resources, is enhanced. It is a dilemma that organisations like Landcare Research and our 'hub' partners are well placed to address in collaboration. What we develop for New Zealand we can export around the world.
"Landcare Research brings to the hub expertise in key areas including the application of land science and informatics to precision agriculture and irrigation; offsetting development impacts on natural heritage; tools for biosecurity protection and risk mitigation in agriculture; and programmes for certifying environmental performance."
Landcare Research's chief scientist, Dr David Whitehead, believes the hub will become a centre of excellence for scientists, technologists, university teachers, leading farm managers and business people who are committed to working together towards a common vision; and this in turn will attract other technology businesses, investment and organisations to Lincoln and New Zealand.
The Hub will become the centre of a national and international network of organisations working on the opportunities of productive land innovation, he says.
"My colleagues and I will benefit significantly from the vibrant, seamless research hub community. Seminars, collaborations and state-of-the-art research facilities create contacts and skills way beyond each individual organisation. The hub will also ensure innovation is rapidly applied to achieve New Zealand's goals."
It is anticipated that the Lincoln Hub will commence development from early 2014, with continued work around governance and management structure and funding sources taking place throughout the remainder of 2013.