More birds in Kiwi gardens
Friday 03 Jul 2015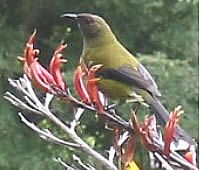 The number of birds in garden across the country is up this winter, according to preliminary results from the New Zealand Garden Bird Survey.
The citizen science project, organised by Landcare Research associate Eric Spurr, ends this Sunday.
Spurr said bird counts of most species were higher than average for the previous eight years – silvereyes in particular.
"This may reflect the harsh early winter conditions around the country, bringing birds into gardens in search of food," he said.
The top 10 birds recorded in gardens, so far, were consistent with those over recent years - except for one change. The song thrush has dropped out and the goldfinch soared in.
"The goldfinch hasn't been in the top 10 for about three years," he said.
The house sparrow remained the most numerous species, followed by silvereye.
Participation rates were also up, Spurr said.
So far, more than 1300 people have taken part, entering their results online.
"The response from the public has been fantastic but we're still hoping a lot more people will do the survey in the remaining few days."
The survey is open to anybody who can identify birds in their garden. To find out more and to take part in the survey, go online to: http://gardenbirdsurvey.landcareresearch.co.nz
You can also find out about the survey on Facebook, where people are sharing their experiences and photographs of birds in their garden:
www.facebook.com/groups/nzgardenbirdsurvey.
Background:
Graph showing average number of birds per garden for the top 10 bird species (excluding gulls) from 1321 gardens surveyed so far (2015 data unedited and not weighted, 2007–2014 data weighted by regional proportions of NZ households).