Nature Watch: I-spy with a twist
Thursday 27 Sep 2012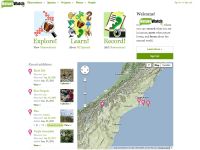 Are you looking for a little more enjoyment, purpose and structure for children during the upcoming school holidays?
Here's a great idea that is free and provides entertainment and activity in the back seat of the car – or anywhere for that matter - while at the same time contributing to New Zealand's natural history knowledge and posterity. It is the modern motoring equivalent of 'I Spy'.
NatureWatch NZ (http://naturewatch.org.nz/) is an online system for viewing and recording new and old natural history observations from around the country. The information gathered will assist in ongoing and longer-term conservation efforts and give land managers a better understanding of the distribution of a huge diversity of species including pests. It allows you to view and record observations of any species at all, wild or cultivated, from the birds and butterflies in your back garden, the rabbit you saw on your morning walk, a starfish in a tide pool, or even the bout of giardia you got from drinking polluted water.
If you're starting in car, begin with simple things like marking road kill (possums, hedgehogs, rabbits, stoats, etc), or magpies, harrier hawks and/or cabbage trees on your road map And, when you are next plugged into the internet, record your observations for you and all to see.
Organiser Colin Meurk says the purpose of NatureWatch NZ is to fill gaps in knowledge about distributions, behavior and activity of indigenous and exotic organisms while engaging a wide cross-section of society in becoming more observant, aware and protective towards their natural history.
So when you travel around the country in the car, boat, cycle, horse or on foot, make a note of (some) of what you see – both commonplace and rare species. All these records will help to make NatureWatch more accurate and comprehensive And, if you don't know what something is, upload a photo or two and the NatureWatch NZ people will identify it for you.