Home

»

About Us

»

New butterfly introduced to tackle problematic weed
New butterfly introduced to tackle problematic weed
Wednesday 05 Nov 2014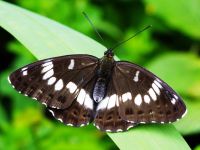 A Japanese butterfly has been introduced in New Zealand as a frontline defence against a weed threatening native plant life.
Honshu white admiral butterflies are being released in the Waikato region to combat Japanese honeysuckle, a fast spreading white-flowered vine. The weed has become a huge problem in New Zealand with nothing to keep it in check, until now.
The next batch of newly-hatched white admiral butterflies will be released on Friday (7 November) but it will be their offspring – during their caterpillar stage – that will feed on the weed.
Landcare Research scientist Quentin Paynter said the caterpillars were "voracious" and each could consume several leaves during the course of its development.
He said if breeding went well at the site they would look at releasing more of the butterflies elsewhere.
"At the moment we are keeping a close eye on the initial release site. We don't have many butterflies available for release as it is a very difficult species to rear in captivity because the adults refuse to mate when confined indoors. Because we have so few butterflies to play with, concentrating on getting establishment at one initial site may be the best option. But if we start finding large numbers of eggs at the first release site we will certainly consider releasing adults at a second site."
He expected the butterflies would do well in New Zealand as the climate was less extreme than Japan's.
Dr Paynter said it was impossible to say just how many would be needed to make a dent in the density of Japanese honeysuckle but it would be "an awful lot".
"Each female butterfly can lay 200 eggs, so if they establish, then they should be capable of rapidly building up their numbers. In the longer term we hope they end up eating themselves out of house and home."
Paynter said biological control was often the "last option"to control a weed when conventional methods were not viable.
"The big issue with Japanese honeysuckle is that because it's a climber it's really hard to kill with herbicides without killing the thing it's actually climbing on at the same time. Biocontrol is seen as a friendlier way to control it."
The introduction of the white admiral butterflies comes after years of research by Dr Paynter and his fellow Landcare Research colleagues Hugh Gourlay and Chris Winks.
Most of the testing had to be based in Japan due to difficulties mating the butterflies in captivity in New Zealand despite attempts at hand-pairing by an expert brought in from the United States.
In Japan, the Landcare Research team discovered more than 15 natural enemies of the Japanese honeysuckle.
These were narrowed down to the five most promising potential biological control agents.
Dr Paynter said the white admiral butterfly came out on top as field surveys in Japan indicated that it is an adaptable species that was found in a variety of habitats from hot lowland sites to cool mountain habitats, suggesting that it should be able to adapt to living in New Zealand.
Other promising potential biocontrol agents for Japanese honeysuckle in the pipeline include a stem-boring beetle and an, as yet, undescribed moth which destroys the stem tips.
The release of the butterflies comes as a milestone after the trials faced numerous setbacks including disruption to the research programme because of the Canterbury earthquakes and the 2011 tsunami in Japan. Some of the research sites in Japan were wiped out by the tsunami.
The Environmental Protection Authority approved the release of the butterfly in August 2013 after research showed the larvae would not feed on other plants. The Greater Wellington Regional Council applied for the consent on behalf of the National Biocontrol Collective.
Japanese honeysuckle was introduced to New Zealand as a garden plant but has become firmly established in bush environments. With growth of up to 15m per year in ideal conditions, traditional methods of combating the weed such as chemical or manual control are no longer practicable in many areas.