Home

»

About Us

»

New Money a Game-Changer for New Zealand's Biodiversity
New Money a Game-Changer for New Zealand's Biodiversity
Monday 25 Jul 2016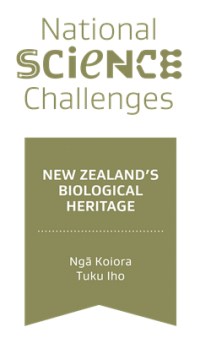 "The significant new investment in pest eradication, announced at Zealandia in Wellington today by Prime Minister John Key, could be a game-changer. And a game-changer is just what our biodiversity desperately needs," says Dr Andrea Byrom, Director of the National Science Challenge for NZ's Biological Heritage, and an expert in pest ecology.
"Over the last few years we have seen the public and private sector, individuals and communities, councils, scientists, businesspeople, schoolkids, and thousands of committed New Zealanders, coming together in a manner that is usually only seen when there is a universal threat such as war. In fact, this situation is very analogous. There is a universal threat to our native plants and animals – and therefore to our economy and national identity - from overwhelming numbers of possums, rats, stoats, and other invaders.
"Scientists, professionals, philanthropists, volunteers, and land owners have been doing a valiant job over the last few years, but barely holding the line. Our precious biodiversity is in decline. If we're going to get on top of this problem, we've got to massively upscale the effort and find novel and clever ways to reduce the high labour cost. A lot of volunteers are starting to burn out. It's really hard to sustain the effort.
"New technologies such as wireless trap sensors that tell you when a trap needs clearing, and traps that can kill several animals without needing to be re-set, can make a huge difference. But scientists around New Zealand are not just relying on the 'here and now' technology. The Biological Heritage Science Challenge, hosted by Landcare Research, and with expertise from 17 Challenge Partners, including all 8 universities and 7 Crown Research Institutes, has some exciting opportunities for investment in pest control research.
"Scientists aligned with the Challenge are investigating other, over-the horizon technologies: genetic interventions, species-specific toxins, and super-effective trap lures, in the race to beat our national problem. The $28 million of new money announced today includes funding for research, and provides a much needed boost than can sit alongside our existing investment," says Andrea.
"The Challenge is also driving the concept of transformative, large-scale eradication of pests throughout New Zealand, an ambition shared by many visionary leaders in business, science and national and local government. Together with Landcare Research we are strongly supporting the Cape to City project in Napier, the first experiment in upscaling pest eradication across thousands of hectares of production and urban landscapes." http://capetocity.co.nz/about/
"Pest eradication, and shoring up our defences against biological threats to our land-based economy, such as the PSA that decimated kiwifruit, are the main goals of our Biological Heritage Science Challenge, established by MBIE and hosted by Landcare Research. We are bringing together and focussing all the research that's going on in these areas, identifying gaps, and looking to the future."
For further information, contact Glenda Lewis, Challenge Communications Manager, glendajanelewis@gmail.com 027 210 0997