New Zealand Virtual Herbarium launched
The New Zealand Virtual Herbarium has been launched by the New Zealand National Herbarium Network and provides free internet access to over 700,000 records held by 11 botanical collections from Auckland to Dunedin.
Tuesday 23 Aug 2011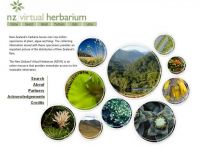 The New Zealand Virtual Herbarium has been launched by the New Zealand National Herbarium Network and provides free internet access to over 700,000 records held by 11 botanical collections from Auckland to Dunedin.
The records relate to over 1.4 million specimens of mosses, lichens, liverworts, ferns, algae and seed plants that have been collected in New Zealand from 1769 (Captain Cook´s first voyage ) to the present day, and cover all regions of the New Zealand mainland, as well as the offshore islands. These herbaria records can now be searched simultaneously across the participating herbaria and results viewed as distribution maps or download.
While the larger collections have comprehensive records, until now users could not just go to their "local" herbarium to get all the information they needed. The more dedicated users would have gone to each herbarium's records, then spent time manipulating information into consistent formats just to get a distribution map. The New Zealand Virtual Herbarium pools all the available records in a 'one stop shop' making it easy for users to obtain the most complete picture for the species they are interested in, and generate distribution maps at the click of a button. It also provides these data in a consistent format and standard.
About 700,000 records are currently available with more being added all the time as staff work back through specimens collected in the pre-digital days … before computers were routinely used or even existed. Data in the Virtual Herbarium will be updated according to regular schedules, some weekly, as more records are digitised.
These collections and associated databases underpin virtually all aspects of biological sciences and resource management so are significant resources, nationally and internationally. For example, they provide a wealth of material supporting biodiversity and biosecurity management, historical references of species distributions, evidence of new weed occurrences and spread of existing weeds, records of ecological and biological associations for conservation work and research, and the most fundamental of all … getting the correct name for a plant and where it is likely to occur. This can be surprisingly confusing given the variation that naturally occurs in species, especially from one end of the country to the other.
The project to make these data accessible was funded by the Terrestrial and Freshwater Biodiversity Information System (TFBIS) Programme, and was implemented using the platform that was initially developed for Australia's Virtual Herbarium by the Council of Heads of Australasian Herbaria.
Aaron Wilton, Manager of the Allan Herbarium Databases at Lincoln and leader of the Virtual Herbarium project, says that the Virtual Herbarium is the first step in liberating data associated with collections. The Virtual Herbarium provides a cost effective, co-ordinated approach of improving access to New Zealand-wide specimen based biodiversity data. www.virtualherbarium.org.nz
Further information about the Virtual Herbarium Project:
Participating 11 herbarium members:
Auckland Museum (AK)
Canterbury University (CANU)
Allan Herbarium, Landcare Research (CHR)
Lincoln University (LINC)
Massey University (MPN)
National Forestry Herbarium, SCION (NZFRI)
Otago University (OTA)
National Fungal Herbarium, Landcare Research (PDD)
Unitec, Auckland
Waikato University (WAIK)
Te Papa (WELT)
Further examples (in more detail) of the benefits include:-
scientists investigating the taxonomy or biosystematics of a particular group with the aim of publishing a description, new name or distribution for a taxon, a Flora treatment or a checklist
biodiversity and biosecurity advisors wanting an additional, verifiable, source of information on New Zealand's biodiversity
biosecurity agencies seeking information on the time and place of arrival and subsequent spread of exotic species.
scientists studying changes in biodiversity over time, researching the historical biota of an area, assessing regional patterns of biodiversity, mapping and predicting distribution of species (e.g., pest spread).
planners requiring basic information on taxon distributions, and their changes in time, in order to set management priorities,
managers who need to undertake surveys of the biodiversity of specific regions (e.g. of a conservancy, an Ecological Region, an Ecological District, an island or a reserve). Being able to rapidly access already-collected data means that scarce field time can be spent focussing on areas and taxa that are under-collected.