Plant disease biocontrol world first
Wednesday 27 May 2015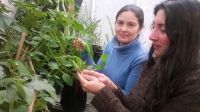 In a world first, New Zealand is using a Peruvian plant disease as biocontrol against a notorious weed.
Lantana blister rust (Puccinia lantanae) was recently released in the Bay of Plenty and Northland in an attempt to control lantana – considered one of the world's 10 worst weeds.
While lantana is primarily a problem in Northland, given its reputation Landcare Research scientists have been searching for biocontrols before it becomes widespread.
So far, they have found pathogenic fungi stand the best chance of fighting the weed in New Zealand. Insects used as biocontrol agents against lantana in Australia are unlikely to cope with New Zealand conditions.
Landcare Research scientist Maj Padamsee, the lead researcher on the lantana biocontrol project, said the emerging weed posed a serious threat to New Zealand's agricultural industry. Once established it is extremely difficult to control and can easily overrun farmland.
"Lantana has the potential to become extremely problematic. These releases are pre-emptive to make sure it doesn't get to that point. We're trying to nip lantana in the bud," she said.
"It's the first time the lantana blister rust has been used as a biocontrol anywhere in the world, which makes this release really exciting."
The lantana blister rust attacks the stems, leaf stalks and leaves. The damage it causes can result in systemic infection leading to stem dieback.
Landcare Research lab technician Chantal Probst, who has been working with Padamsee on the project, said host tests for the plant disease were initially conducted to see if it was a suitable biocontrol to use in Australia, where the weed is a major problem. Tests were carried out by UK-based not-for-profit scientific research organisation CABI. While more testing is required to determine if the disease is safe to release in Australia, tests came back positive for New Zealand.
With the all clear, Landcare Research imported lantana infected with the disease in spring last year and began mass-rearing it for release.
To further assist the war on the weed, another plant disease has also recently been released in the Bay of Plenty and Northland. The Brazilian plant disease, called lantana leaf rust (Prospodium tuberculatum), as the name suggests, affects the weed's leaves. The disease is also being used in Australia in an attempt to control lantana.
Probst said both plant diseases can co-exist on lantana and are expected to complement each other by having slightly different climatic requirements.
"Both rusts can infect the same plant and can complement each other but the blister rust has a warmer temperature range than the leaf rust. We are expecting the blister rust to prefer temperatures in Northland and not do so well in the Bay of Plenty, and the opposite for the leaf rust," she said.
More releases of the plant diseases will be made in the Bay of Plenty and Northland in the spring.
The release of plant diseases were approved by the Environmental Protection Authority in 2012.