Pond borders can benefit bees
Friday 02 Aug 2013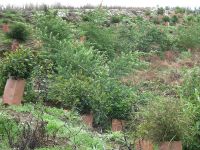 Irrigation pond borders offer a great opportunity to increase biodiversity on farms without impacting on productive land, according to researchers.
Landcare Research scientists have used remote sensing – computer analysis of satellite images – to demonstrate that in just one 5 km diameter circle near Ashburton there are 10 irrigation ponds whose otherwise bare banks could provide almost 3.5 hectares of available land to support more diverse plant and animal life.
Pollination expert Dr Linda Newstrom-Lloyd of Trees for Bees NZ says if that land – and areas like it throughout New Zealand - was planted in bee-friendly tree and shrub species then nutrition sources would be available to answer the increasing demand for pollination services in the region and help avert a pollinator crisis.
"We know that more intensive farming practices are impacting on biodiversity," she says.
"We could use this unproductive land around irrigation ponds to improve biodiversity – and there are subsidies available to help fund biodiversity plantations on farms.
"If the five-metre-wide borders of all ten irrigation ponds in our highlighted area were planted in suitable bee friendly trees and shrubs, then bees foraging from hives located in the middle of that area would have access to more than 20,000 nutritious plants."
Apiculture Officer Marco Gonzalez of Trees for Bees NZ says innovative farmers are planting species that provide nutrition in the most critical seasons - early spring and autumn - when there is not much else in flower. This will produce larger, stronger bee colonies ready for pollination services required for crops in the summer.
"We now have four demonstration farms around the country that illustrate what can be done to improve bee nutrition".
Planting around irrigation ponds is a good way to suppress weeds at the same time as providing more biodiversity for bee nutrition. Ashburton arable crop farmer John Evans has planted 1557 trees and shrubs that will supply high-protein pollen during the spring and autumn periods. The extra boost from this nutrition will build up the bee colonies in his apiary to optimal strength and contribute to his pollination services needed in summer. The plantation also adds value by the beautification of the pond margin and increased farm biodiversity.
Trees for Bees NZ notes that August is Bee Awareness Month, an initiative developed by beekeepers in the National Beekeepers Association and supported by Federated Farmers Bee Industry Group.
"This is an excellent opportunity to highlight the great work being done by innovative farmers such as John, and Dean Pye who has planted 798 bee-friendly trees and shrubs in a shelterbelt in the Ashburton region. Gisborne farmers, Peter Hair and Nick Pollock, have joined the programme by planting bee forage on livestock farms to improve pollination," Marco Gonzalaz says.
The Trees for Bees NZ team, chaired by Ross Little, is delighted that the research programme has recently been awarded a new grant from the Ministry for Primary Industries Sustainable Farming Fund. The focus will be on planting bee forage on all types of farms. Most important are those farms that are already planting for other reasons such as riparian strips and erosion control programmes.
The Trees for Bees NZ programme is developing a new expanded plant list based on research to date on protein content in pollen. These plants species will be added to the national list of bee forage plants for New Zealand and will supplement the ten Federated Farmers Tree for Bees regional Bee Plant Guides.
In the next three years we will develop model planting designs for different farm types and determine guidelines and best practices for customising these designs for different farm operations. To keep updated on the project, see the new Trees for Bees NZ website and 'like us' on Facebook.