Where have all the silvereyes gone?
Friday 01 Jul 2016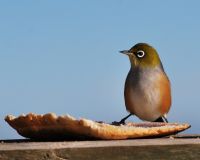 There's a record low of silvereyes in gardens across the country this winter, according to preliminary results from the New Zealand Garden Bird Survey.
So far around 1500 people have taken part in the Landcare Research led citizen science project, which ends on Sunday (3 July).
Survey organiser Eric Spurr, a research associate at Landcare Research, said the low number of silvereyes probably reflected the mild winter we've had so far.
Mild weather meant birds were not forced into gardens in towns and cities at lower altitudes in search of food like they are when conditions are harsher, Spurr said.
"It doesn't mean that silvereye numbers are lower overall, just that they are lower in our gardens at present."
Preliminary analysis of the results from the first 700 gardens entered online show that the top 10 most numerous species are similar to last year, except the song thrush has come in and the greenfinch has dropped out, Spurr said.
The house sparrow is top again, as it has been every year since the survey started 10 years ago, and the silvereye remains second, despite the low number counted this year.
More than 37,000 birds have been counted and 84 different species, so far.
Results are coming in from all over New Zealand, including one from the Chatham Islands. Auckland has taken out top spot with 286 people having done the survey, followed by 143 in Wellington and Christchurch a close third with 134.
There is still time to participate in the survey. To take part, go to the Landcare Research website for full instructions.
The website also contains lots of information including the results of previous year's surveys and interactive maps showing where in the country different species are most likely to be found. There is also a bird colouring competition and other fun activities for children.
You can also find out about the survey on the NZ Garden Bird Survey Facebook page, where people are sharing their experiences and photographs of birds in their garden.
The NZ Garden Bird Survey is supported by Forest & Bird, Birds NZ, Topflite, Nature Watch, CORE Education and the Department of Conservation.