Positive result with New Zealand Bee Colony Loss Survey in 2016
Published: 10 March 2017 - by Pike Brown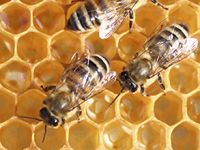 Landcare Research's reputation as the leading provider of survey services that gather solid scientifically proven data has been further enhanced with the release of the 2016 Colony Loss Survey of beekeepers.
The survey, commissioned by the Ministry for Primary Industries (MPI), was launched to build a better picture of the state of New Zealand's honey bees and the challenges beekeepers are facing.
MPI Director Spatial, Forestry and Land Management, Oliver Hendrickson, says the 2016 New Zealand Colony Loss and Survival Survey was good news for New Zealand's apiculture industry.
"The survey found hive losses in New Zealand during 2016 to be 9.8%. This is low to average when compared to international results.
"It is important to have this evidence in order for MPI to work with beekeepers on initiatives to manage honey bee colony loss over time," says Mr Hendrickson.
It's the second time Landcare Research has conducted the survey after launching it for MPI in 2015. It dovetails with Landcare Research's diverse research portfolios and capabilities which includes native honey research.
Participation rates in 2016 jumped significantly from the first survey in 2015.
"It's the beekeepers that make this survey so successful", says Landcare Research Senior Economist Pike Brown.
"Last spring, about 38% of all registered beekeepers, from hobbyists to the industry giants, completed the survey. This amounted to 275,000 hives, so we have some of the best data in the world for monitoring winter colony losses".
"In temperate climates such as New Zealand, some colony loss is expected over winter," says Dr Brown. "Based on beekeepers' reporting, we estimate that colony losses in winter 2016 were 9.8%, which is significantly lower than losses reported in many other countries where similar surveys are undertaken. Our losses in winter 2016 were also similar to our losses in winter 2015," he reports.
As in 2015, the commonly reported causes of hive loss in 2016 were colony death (which includes starvation and exposure to environmental toxins), queen problems (such as drone-laying queens), and wasps. Losses to American foulbrood disease, natural disasters, Argentine ants, and theft were less commonly reported, according to Dr Brown.
The survey highlighted other challenges facing beekeepers as well, including competition for apiary sites and lost pollen and nectar sources. MPI is also engaging in a pathogen research programme to complement the survey by determining the prevalence of honey bee diseases and parasites already in New Zealand.
Landcare Research is also looking at ways to grow the range of high-value native honeys by exploring the chemistry of other native species and the genetic provenance of the plants used to produce honey in the hope they may create unique value in export markets, differentiating New Zealand native honeys and securing premium value from natural mānuka honey.
Landcare Research also uses its knowledge of soils, erosion and land use to help land owners make decisions on where and when to plant manuka using satellite imagery and other tools that advise on smart land use.