Discovery Issue 41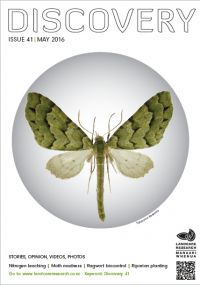 At Landcare Research we believe in working together to achieve a more prosperous New Zealand in which people understand, value, and sustain this country's unique natural capital.
The stories featured in this edition of Discovery showcase the wide range of partnerships we share to reach this common goal – from industry groups, Māori trusts and farmers to school children. Increasingly, we are getting people involved in science – what's called citizen science.
A couple of examples of this are the well-known Garden Bird Survey, which this year runs from 25 June to 3 July (you can go online and register for updates), and also our project Shedding Light on the Night, which is featured in this edition. This project has seen our scientists, Barbara Anderson and Robert Hoare, working alongside the University of Otago and Orokonui Ecosanctuary, getting school children in Otago excited about night-flying moths. These children, who are helping gather valuable distribution and ecological data, could be the next generation of scientists and lepidopterists while seeing the wonder of New Zealand nature first hand.
Many of our projects see us working alongside everyday people on everyday issues. For example, in our nitrogen leaching research, featured in this edition, we worked with Tihoi farmers, Mike and Sharon Barton. They generously let our senior soil scientist, Malcolm McLeod, conduct research on their beef farm in a bid to try and find a way for farmers to increase production while operating under nitrogen discharge caps. The findings on cut and carry lucerne are great news for farmers in the catchment, and Malcolm has won recognition for this work.
In another example, we have partnered with DairyNZ to create the Riparian Planner. This is a web-based tool to help make it easier for farmers to meet their water accord obligations. Farmers get to see their own farm and make plans and budgets for their own activities. While the tool is designed for dairy farmers, DairyNZ is generously making the tool available outside dairy.
A long-running partnership of which we are very proud is the National Weeds Biocontrol Collective in which we have worked with councils, Department of Conservation, and land-owners to control weeds using carefully selected biological control agents. As described in an article in this edition, successful weed biocontrol agents are helping save farmers millions of dollars in control costs alone, let alone the value of recovered land.
I hope you enjoy this issue of Discovery. It all goes to show the value of investing in science!
Dr Richard Gordon
Chief Executive
Opinion
Dr Bill Lee, an ecologist at Landcare Research, says a national riparian plan would have "major benefits" for our waterways.
---
Features
It's hard for farmers to turn a profit at the best of times, let alone while reducing their nitrogen footprint. But a study by Landcare Research has found farmers can achieve both.
---
Ragwort's distinctive bright yellow flowers used to be a familiar sight across New Zealand farmland. But thanks to a tiny flea beetle the weed, which is particularly toxic to cattle and horses, is now largely under control saving farmers millions in control costs.
---
With dairy farmers well on the way to ensuring stock are excluded from waterways by the government's deadline of July next year, attention is turning to the industry's next efforts to improve water quality – riparian planting. Industry body, DairyNZ, and Landcare Research have created a web-based tool to make this next step easier for farmers.
---
There are more than 2000 species of moth in New Zealand but little is known about these important insects. Students from schools across Otago are helping researchers change that.
---
Other news
New reports from the Royal Society of New Zealand highlight key climate change risks for New Zealand as well as possible mitigation options, including emissions solutions from Enviro-Mark Solutions.
---
A new strain of virus could help New Zealand farmers slash rabbit numbers by up to 30 per cent.
---
A trio of Brazilian beetles have been released in Northland to tackle a weed threatening a "biodiversity hotspot".
---
The results are in from the Survey of Rural Decision Makers 2015.
---
Coming face-to-face with thousands of aggressive wasps is just a typical day at work for New Zealand researcher Dr Bob Brown.
---
Tests will soon begin to ensure a mite, that looks a promising biocontrol agent against wasps, isn't a threat to bees.
---
Additional releases of Chilean weevils have been made to control the widespread weed Darwin's barberry.
---
One of New Zealand's nationally significant plant collections is being used to help save babies' lives.
---
Did you know that birds act as 'environmental health' indicators? By taking part in the 10th New Zealand Garden Bird Survey, you can help us learn more about the birds in your backyard as well as the condition of the environment you live in. This year's survey will run from 25th June – 3rd July 2016. All you need is one hour, and a comfy chair.
---
Download Discovery poster
This beautiful A3 poster depicts a carpet moth (Tatosoma lestevata) in all its green glory.
---
ISSN 1177-8776