History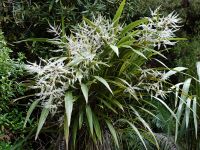 The Allan Herbarium (CHR) was founded in 1928 with the appointment of H. H. Allan as systematic botanist to the Plant Research Station, Palmerston North. The nucleus of the collection was formed by the donation of H. H. Allan's private collection and specimens from the old Biological Laboratory, Department of Agriculture. In 1936 the Plant Research Station was transferred to the Department of Scientific and Industrial Research, and was relocated to Wellington in 1937. In 1954 the Herbarium was relocated to Christchurch, before being moved to a purpose-built facility at Lincoln in 1960. Custodianship of the collection was transferred from DSIR Botany Division to Landcare Research in 1992. In 2001, it was named the Allan Herbarium to acknowledge the contributions of H. H. Allan to New Zealand botany.
Important Collections:
H.H. Allan, K.W. Allison, J.B. Armstrong & J.F. Armstrong, J.Banks & D.C. Solander (some duplicates from Cook's first voyage, 1769-70), T.W.N. Beckett, G. Buelow (Tonga), G. Brownlie, U.V. Cassie, H. Carse, J. Child, P. Child, H.E. Connor, A.P. Druce, E. Edgar, E.A. Flint, D.J. Galloway, F.G. Gibbs, D.R. Given, E.J. Godley (southern Chile), A.J. Healy, R.M. Laing, B.H. Macmillan, W. Martin, R. Mason, W. McKay, N.T. Moar, B.P.J. Molloy, L.B. Moore, B.E.V. Parham, J.W. Parham, M. J. Parsons, R.N. Patel (wood anatomy), A.W. Purdie, F.S. Reed (diatoms), W.A. Scarfe, G. Simpson, M.J.A. Simpson Bulfin, R. Spruce, W.R. Sykes, H. Talbot, J.S. Thomson, N. Wace (Tristan da Cunha, Gough Islands, South Atlantic Ocean), A. Wall, V.D. Zotov.