Home

»

Depositing / Ordering Strains
Depositing / Ordering Strains
Depositing strains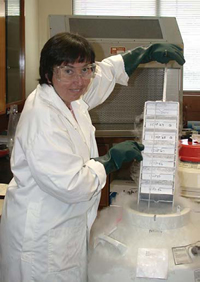 The ICMP welcomes new accessions of fungi and plant-associated bacteria from New Zealand and throughout the world. To deposit strains in the collection first please email the Curator with your intent, include the name and number of strains, and their isolation source. Then complete the ICMP deposit form below, and print and include the hard copy forms along with the cultures. There are no fees to deposit cultures in the public collection.
Cultures are accepted on the basis that they have not been collected or transported in contravention of any current international law or convention, or in contravention of any New Zealand Government laws and regulations.
Download ICMP deposit form

Email address: icmp@LandcareResearch.co.nz
Mail address: ICMP Curator, Landcare Research, Private Bag 92170, Auckland Mail Centre, Auckland 1142, New Zealand
Courier address: ICMP Curator, Landcare Research, 231 Morrin Road, St Johns, Auckland 1072, New Zealand
Ordering strains
Cultures are available for use in research and teaching. They are not automatically available for commercial purposes, although this may be permitted through negotiation; please contact the Curator. To order strains from the ICMP please complete the request form below and mail it to the Curator.
New Zealand Researchers:
Due to New Zealand legislative requirements governing containment of cultures sourced from overseas, we recommend that NZ researchers consider selection of strains from among those isolated in New Zealand. Under NZ quarantine regulations most imported cultures are MPI Restricted cultures that require MPI approval before they can be released to a suitable Containment Facility. Cultures on the MPI Unwanted Organisms Register require special approval from the MPI Chief Technical Officer before despatch. This also applies to Unwanted Organisms isolated in New Zealand. Check the MPI website for the Unwanted Organisms Register and the Biosecurity Organisms Register for Imported Commodities. Researchers must ensure that they have relevant approval to develop, field test, or release a new organism under the HSNO act.