Home

»

Keys to Russula and Lactarius
Keys to Russula and Lactarius species in New Zealand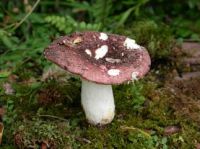 We have developed an interactive Lucid 3.4 key to New Zealand macrofungi in the genera Russula and Lactarius. The development of the key was funded by the Terrestrial and Freshwater Biodiversity Information System Programme, (TFBIS).
Our approach to building the key
Each year the Fungal Network of New Zealand (FUNNZ) holds an annual foray in different parts of New Zealand which is generally attended by 30-50 people. The collective effort available during forays formed the basis of gathering fresh material which could be photographed, described and incorporated into the key. The forays also provided opportunities in 2010 and 2011 to test iterations of the key and gather feedback on useability and reliability.

System requirements
Java Virtual Machine (JVM) is required to run this key. You can download the most up-to-date version at www.java.com.
Chrome users: to enable the Java plug-in for the latest version of the Chrome browser, please follow these configuration steps:
In your URL bar of Chrome, enter:
chrome://flags/#enable-npapi
Click the Enable link for the Enable NPAPI configuration option.
Click the Relaunch button that now appears at the bottom of the configuration page.
This will relaunch Chrome and allow the key to run. Alternatively, run the key in an alternative web browser such as Firefox, Internet Explorer or Safari.
Caveats for using Version 1 of the Key
In developing the key it quickly became apparent there were many undescribed species, some quite distinct, whilst others are easily confused with known species. Recognising, describing and disentangling the historic use of names became a substantial task. However, it is necessary to complete that task before a comprehensive key can be built. This ongoing work is supported by the Defining New Zealand's Land Biota research programme funded by the Ministry of Science and Innovation. We are applying of molecular techniques to characterise known and undescribed species, as well as providing information on their phylogenetic relationships with known taxa from Australia and northern hemisphere. That work is providing numerous interesting and sometimes surprising results.
The task of revising the New Zealand species of Russula and Lactarius is well underway and over the next 2 years we will publish our findings, including new species, which will culminate in an illustrated volume for the Fungi of New Zealand series.
Version 1 of the key therefore represents a compromise. It contains data on the existing described species together with a number of formally undescribed taxa. We stress that the task of adequately resolving existing species, and incorporating all newly identified species is ongoing. For that reason we have currently excluded some full descriptions from the Version 1 of the key.