About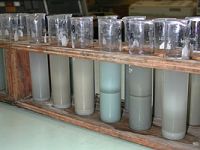 The Mineralogy Laboratory was established some 50 years ago in the Soil Bureau, DSIR, Lower Hutt.
The Laboratory is now housed at the Massey University campus of Landcare Research in Palmerston North. The emphasis has been on characterising clays and clay minerals in soils for agriculture. However, we can also analyse a wide range of other materials, such as clay minerals in sediments, rocks, animal calculi, and building materials.
New Zealand soils
New Zealand provides a unique environment for earth sciences in general, but especially for soil research. The behaviour and properties of New Zealand soils are closely related to the nature of their mineral constituents. Among these, the clay minerals and associated phases are the most important because of their small particle size, peculiar charge characteristics, and extensive surface area. Thus, a teaspoonful of clay-size (<0.002 mm) minerals can expose a surface area equivalent to that of a football field! The clay mineralogy of soil therefore has a controlling influence on many soil processes, such as water infiltration, swelling/shrinkage, nutrient/heavy metal retention, organic matter stability, and organic pollutant mobility.
Accreditation
The MinLab meets the standards set by the National Radiation Laboratory, pursuant to the Radiation Protection Act, 1965.
Awards
The Mineralogical Laboratory has gained an international reputation as a centre of excellence as attested in 2004 by the award to B.K.G. Theng of the Bailey Distinguished Membership from the Clay Minerals Society (USA).