Home

»

Pathogen Containment Facility
Beever Plant Pathogen Containment Facility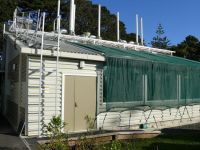 A transitional and containment facility for plants, microbes and insects PC2+
A new state of the art plant pathogen containment facility marks a significant step forward in New Zealand's battle against invasive weeds as well as destructive plant pathogens attacking species as diverse as kauri and kiwifruit.
The Facility was named in honour of the late Dr Ross Ewen Beever – an eminent plant pathologist, mycologist natural historian and mentor. Its primary function is a transitional and containment facility for insects, micro-organisms and cell cultures.
The $2.1 million Beever Plant Pathogen Containment Facility will boost New Zealand's weed bio-control programmes which until now have had to rely on overseas facilities and collaborators to undertake trial work involving plant pathogens.
Provision of natural light is very important design aspect of the Facility, and as such represents New Zealand's only double-glazed, containment glasshouse. This ensures that growing conditions match those expected in the field, helping to maintain healthy host plants.
Other biosecurity and research organisations including the Ministry for Primary Industries (MPI), other CRIs, universities, overseas research institutes, businesses, and private individuals will also be able to use the facility.