Links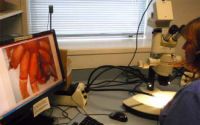 There are many sites with insect and spider information on the Web. Here is a selection that students and teachers may find interesting.
Insect and spider sites
Book of Insect Records - amazing facts about insects of the world. The University of Florida Book of Insect Records names insect champions and documents their achievements. Each chapter deals with a different category of record.
Insects. A unit in the New Zealand English curriculum in which students are involved in a study of insects in their environment. Students are encouraged to observe, investigate, question, and share experiences relating to insects. Although this link is mainly for teachers of students in years 1-3, students of all ages will enjoy the links.
K-12 Educator Recommended Resources, a US link to a worldwide index of resources about insects and spiders suitable for kindergarten to year 12, and suitable for students and teachers. Find out about insects and spiders in other countries of the world.
The Young Entomologists Society (YES) gives many fascinating facts about arthropods of the world: for example, the house fly "hums" in the key of F and beats its wings over 20,000 times a minute.
Spider sites
Spiders in Australia, includes pictures and information about spiders found in Queensland, Australia. This site was prepared by a person who visited Australia from the Netherlands.
Portals to other specialised sites
Entomology on the WWW: the first site to provide a list and gateway to entomological sites on the Internet.