What are spiders?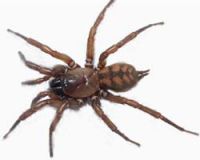 Spiders are animals belonging to the class known as Arachnida.
They have 2 parts to the main body:

hard front part, the head and thorax, called the cephalothorax or prosoma;
soft hind part, the abdomen, called the opisthosoma.

They have a narrow stalk or waist called the pedicel joining the cephalothorax and opisthosoma.
They always have 8 legs and 2 palps (used for grooming and feeding) attached to the cephalothorax.
They have no wings or antennae, although the palps at the front act like antennae.


Spider diagram for printing (206KB) Open immediately by left-clicking mouse.
Download and save by right-clicking mouse and selecting Save Target As.