Te Pare a te NZAC
Ko te pare e kōrerotia ake nei, ko te whakairo kei runga ake o te kūaha.
Ko te pare nei:
1.5 x 0.9 m te rahi;
i whakairohia ki tētahi papa kauri i hangaruatia, neke atu i te 100 te tawhito, he mea whakarauora i tētahi whare whakamātao o mua i te Tumu Herenga Waka o Tāmaki-makau-rau, i ngā 1980;
he mea whakairo i runga anō i ngā tikanga a Ngāti Whātua, te iwi kāinga o Tāmaki-makau-rau, e Denis Conway, he tauira nā Henare Toka;
kei runga ake te pare nei i te kūaha matua o Te Aitanga Pepeke o Aotearoa (te NZAC), ā, nō te 13 Hui-tanguru 1990 i āta tukuna ai hei taonga mā te mātinitini;
ko te mea ahurei o tēnei whakairo nei nā, he nui ngā pepeke me ō rātou whanaunga (ngā angawaho) e huna mai ana ki ngā whaowhaonga a te tohunga whakairo.
Kimihia ngā angawaho e huna mai ana i te pare
Kimihia ngā angawaho e huna mai ana i te pare
Meahia te kiore ki runga ake o tēnā, o tēnā angawaho mō tētahi wā poto. Ka puta ake te ingoa o te angawaho.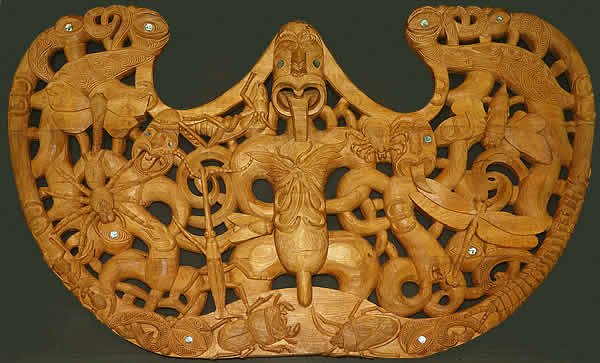 The Pare, or carved door lintel, that stands over the entrance to the New Zealand Arthropod Collection (NZAC) / Ko te Aitanga Pepeke o Aotearoa at Tamaki, Auckland.
E hia ngā angawaho e kite ana koe (mahia tēnei i mua i tō tirotiro i te rārangi)? Hui katoa, 13 rātou.