Home

»

About Us

»

Testing predicted responses of Antarctic plants and microbes to environmental change 3
Testing predicted responses of Antarctic plants and microbes to environmental change 3
Published: 10 March 2017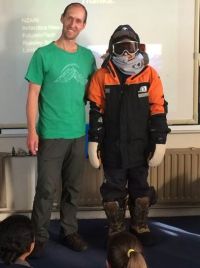 Update 3: A school visit. On 10 March 2017 Phil Novis visited Russley School, Christchurch, to talk to Year 7 and 8 students about Antarctica, including the current project.
The visit was supported by the school and Landcare Research, along with FutureInTech, which promotes careers in science, technology and engineering through school visits by professionals, and Antarctica New Zealand, the government agency that coordinates New Zealand's activities in Antarctica.
Phil has been a FutureInTech Ambassador since 2009. For this school visit Antarctica New Zealand provided a complete kit of field clothing so the students could see how people stay warm – and clumsy! – on the icy continent.
Thanks to everyone who contributed to the success of this visit, including the students for their enthusiasm.