Issue 4, June 2014
In this issue:
Weed & Pest Management
Land & Water

Sustainable Development
Biodiversity
Editorial
Welcome to this, the latest Landcare Research stakeholder e-newsletter. The idea of these regular newsletters is to keep you, our customers and stakeholders up to date with new research and outcomes across four key areas of our work; weeds and pests, sustainable development, land and water and finally, biodiversity.
This issue covers a diverse range of our recent work including investigation into several potential biocontrols for pest plants, the evolving engagement of the wider public in pest management, international support for our efforts to better inform Antarctic policy makers and new thinking on how we can monitor increasing land fragmentation across New Zealand.
This variety of articles and subjects in this e-newsletter highlights the value of our researchers across a huge diversity of New Zealand business, conservation and biosecurity. Most of the articles include links to their original publication source and we encourage you to follow the links to learn more about our work.
We hope you enjoy this e-newsletter and links and please, if you have any queries, don't hesitate to contact us.
Tom Fraser

Weed and pest management
Potential new biocontrol for European wasps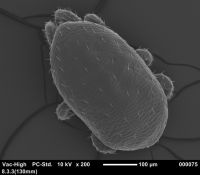 As well as being a pest, we all know that introduced European wasps, Vespula germanica and Vespula vugaris are a damn pain but Landcare Research staff are investigating some promising new leads of possible biocontrols.
During a recent study on the chemical ecology of European wasps researcher Bob Brown (Plant and Food Research) serendipitously discovered mites on wasps. The mites appeared to attach to wasps with their mouthparts and were located in areas difficult for the wasps to groom. Wing deformation was apparent in infected wasps, and heavily infected wasp colonies collapsed.
"These finding encouraged us to reinvestigate a biocontrol programme for wasps in New Zealand, and pursue this potentially promising mite-agent," says Landcare Research scientist Ronny Groenteman.
A community-led group was formed and earlier this year received Sustainable Farming Fund (SFF) support to start the research project.
Ronny says the first step of the project is to identify why the mite is not already providing biocontrol and develop methods to ensure it can.
Contact: Ronny Groenteman
Engaging society in pest management
The involvement of people in all aspects of pest management is vital for a successful outcome, from discussing best-practice pest control to deliberating whether to reintroduce threatened native biota to a fenced sanctuary.
But what exactly is meant by 'engaging society'?
In the latest issue of Kararehe Kino, a series of articles highlight the many facets of such engagement, and how research can help.
There's great articles on a diverse range of topics including the motivations of communities to create sanctuaries, the NZ Sustainability Dashboard, mongoose management in Fiji and how communities and agencies can better engage on the issue of 1080 use.
See: Kararehe Kino Issue 24, June 2014
Forecasting possum distribution
A new 'National Possum Model', currently under development, will provide pest managers with functional and improved strategic planning for possum control at regional and national scales and could also serve as a template for future dynamic maps of other species.
It's been developed by James Shepherd and colleagues at Landcare Research in Palmerston North and based on earlier maps of abundance and distribution that combined with models of population dynamics to create dynamic maps showing future population trajectories.
Murray Efford and Dave Ramsey (formerly with Landcare Research), and more recently Mandy Barron, designed a 'spatial possum model' that simulates the birth, movements and death of individual possums to predict the rate of recovery of entire populations after control. Currently this model can simulate changes in possum populations up to about 100,000 individuals (i.e. over areas of about 10,000 ha) but above this number computational speed is slow, so the model is unable to deal with very large areas, e.g. at regional and national scales.
James overcame this difficulty by rewriting the model's computer code in a more efficient programming language and running model simulations with every possum represented individually for the entire North or South Island. This implementation, called the 'National Possum Model', is designed to run on a clustered computing system (i.e. many linked computers running in tandem) and takes advantage of the large-scale parallel processing and memory that this system makes available.
Contact: James Shepherd
Understanding dispersal and dispersion of wild ungulates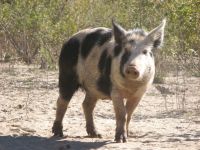 Landcare Research scientists are investigating new ways to understand and identify the extent of dispersion and the occurrence of new populations of wild ungulates – including deer, feral pigs, tahr and chamois - using new approaches and technologies.
In the mid-1990s, researchers identified 258 new population records and concluded that all species except tahr were more widespread than previously documented and all were continuing to extend their ranges. But 20 years on, Dave Latham and his colleagues report that anecdotal information and limited survey data suggest that this process is continuing to occur for some of these species.
If wild ungulates are continuing to expand their ranges and increase their numbers, this has implications for biosecurity and the spread of wildlife diseases, native biodiversity, and agriculture and forestry.
Contact: Dave Latham
Potential biocontrol for Giant buttercup
Landcare Research is collaborating with AgResearch to investigate classical biocontrol options for giant buttercup (Ranunculus acris), a weed estimated to cost the dairy industry around $156 million annually.
Giant buttercup is primarily a pest of improved pasture and is present on dairy farms in South Auckland, Hawke's Bay, Southland, Taranaki, Wairarapa, West Coast and the Tasman District.
Giant buttercup first established in New Zealand around 1910 and reproduces through seed and vegetatively by rhizomes and through nodal rooting (layering) of collapsed flower stems. The seed is easily spread via stock, agricultural equipment, flood waters and hay.
Interest in the potential for biocontrol is partly due to increased resistance to herbicides and last year researchers visited farmers to discuss the the giant buttercup problem and collect samples of the plant and its associated endophytes, pathogens and insect fauna.
As well as looking for insects damaging the plant, the team also looked for any that might disrupt biocontrol agents if they were introduced and plants were also collected for DNA analysis.
"We will be assessing the genetic variability of giant buttercup around New Zealand as well as trying to pinpoint which region of Europe the plants originated from. That way we can source potential agents from the best place," says researcher Dagmar Goeke.
"Widespread weedspecies like giant buttercup are often very variable genetically over their native range, so it is critical that we identify the origin of the plants that are invasive in New Zealand.
Meanwhile, work continues to find an effective biocontrol for Darwin's Barberry (Berberis darwinii) which has the potential to become a serious woody weed like gorse.
Contact: Dagmar Goeke
Land and water
Restoring the Waipu Catchment
Researcher Mike Marden has played a key role in understanding the erosion and sedimentation problems in the Waipu River catchment on the North Island's East Coast.
The Ministry of Primary Industries have now taken on board research by Mike and his colleagues that showed gullies are the most significant source of sediment in this catchment. They plan to focus on gully restoration using funding available until 2021 and administered through the 'East Coast Forestry Project'. Mike says that restoration of gullies is the quickest and cheapest means of reducing the erosion/sedimentation issue, minimising the risk of flooding downstream and damage to infrastructure and will eventually pay dividends in improving water quality.
The focus of the agreement between Gisborne District Council (GDC), Te Runanganui O Ngāti Porou (TRONPNui) and the Ministry of Primary Industries (MPI) is to restore the environmental integrity, economic profitability, cultural revitalisation and social prosperity of the Waiapu catchment. The programme is being governed by the three partners and managed by MPI.
The partners aim to remediate erosion-prone land identified in the Combined Regional and District Plan as Land Overlay 3A (LO3A) using funding available through the East Coast Forestry Project (ECFP) and the Sustainable Hill Country Programme. The 'Plan' requires all 3A land throughout the District to have been established with an effective tree cover by 2021.
There are approximately 60 000 hectares of land eligible for ECFP funding across the Gisborne District, of which approximately 25 000 hectares is in the Waiapu catchment. Much of the target land includes gullies — the highest sediment yielding erosion process — contributing about 50% of the 35 million tons of suspended sediment discharged to the ocean annually by the Waiapu River. Treatment options available for the restoration of gullies include pole planting (willow), natural reversion to an indigenous cover, establishment of plantation forest species and/or, specialty native timber species.
The message is that early intervention pays dividends and the earlier the remaining untreated gullies within Waiapu catchment are treated the quicker the desired outcomes for this catchment will be achievable and realised.
Contact: Mike Marden
Antarctic portal unveiled in Brazil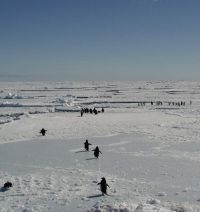 Antarctica is changing with parts of the continent warming as quickly as anywhere else on the planet. And, with more people visiting Antarctica through national programmes or tourism, the increasing impacts on Antarctica are a concern. There has never been a more important time for policy-makers and managers to be well informed on issues such as the introduction of non-native species, protected areas and climate change.
The Antarctic Environments Portal is a 3-year collaborative project between Antarctica New Zealand and Landcare Research, with partners from Australia, Belgium, Norway and the Scientific Committee on Antarctic Research (SCAR). The Portal bridges the gap between scientists and decision makers, translating science knowledge into information that is accessible to policy makers. Scientific information is based on published, peer-reviewed science that has been through a rigorous review and editorial process. It is supported by maps, resources and links.
Fraser Morgan from Landcare Research's Auckland office recently presented a demonstration version of the Antarctic Environments Portal at the Antarctic Treaty Consultative Meeting (ATCM) in Brazil. The initiative was very well received and the Treaty Parties expressed their support for the initiative, congratulating New Zealand for leading the project, which will support the informed protection of the environments in Antarctica.
The demonstration version of the Portal is the project's first milestone. Its success means the project is on track to include more functionality before it goes live in 2015. The final version of the portal will include areas for science-focused discussions, and an interactive mapping interface that allows users to explore the continent and view geospatial information - in all four official languages of the Antarctic Treaty System: English, French, Russian and Spanish.
Contact: Fraser Morgan
Policy instruments for ecosystem services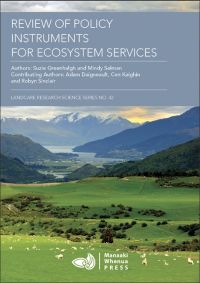 To date there has been very little thought as to how policies might be better crafted to address multiple ecosystem services and minimise some of the trade-offs inherent in these decisions.
A policy guidance document produced by Landcare Research's Suzie Greenhalgh and colleague Mindy Selman, and available online, 'Review of Policy Instruments for Ecosystem Services', examines the types of policy instruments that decision-makers can use when considering options and approaches to enhance, protect or maintain the suite of services provided by ecosystems. They include instruments covering:
Outreach and education—including public awareness, access to information, and environmental education. These policies can take many forms and could be displayed on web portals, maps, interactive tools, awareness campaigns, or in regularly published documents. Messages need to be communicated in a way that is easily understood by everyone.
Regulatory approaches—including bans and restrictions, permits, environmental standards, and environmental limits and caps. Regulatory or command-and-control approaches operate on the premise that a penalty will be incurred if individual sources of ecosystem degradation fail to comply with prescribed levels of pollution, abatement, or ecosystem quality, or fail to adopt the prescribed means of reducing damage to ecosystem services.
Economic instruments—including price-based instruments like taxes, fees and levies, subsidies, tax credits, and low-interest loans, and market-based instruments such as eco-labelling, environmental markets, and auctions and tenders. Economic instruments supplement or substitute for stand-alone regulatory approaches, providing entities with incentives (usually financial) to change their behaviour and thereby reduce their impact on the environment. Suzie's document outlines two categories of economic instruments: price-based and market-based (or rights-based) instruments.
Ecosystem preservation and restoration—including protected areas, ecosystem restoration, land purchases, covenants and easements, and stewardship agreements. Ecosystem preservation and restoration policies protect or restore portions of the landscape to maintain or restore ecosystems and their services.
Suzie's research considers examples of where and how these policies have been applied, the strengths and weaknesses of the different policy approaches, and how these policies might be adapted to look more broadly at ecosystem services. The document is useful for identifying the types of instruments a decision-maker may like to investigate and how these can be compared. The systematic assessment of how decisions impact on multiple ecosystem services and the wise choice and design of policy instruments will reduce the likelihood of unintended policy impacts, providing a solid platform from which to halt and reverse the decline of many of our ecosystem services.
Contact: Suzie Greenhalgh
See: Review of Policy Instruments for Ecosystem Services. Authors: Suzie Greenhalgh & Mindy Selman. Contributing authors: Adam Daigneault, Cen Kaighin & Robyn Sinclair. Landcare Research Science Series No. 42. 2014.
Sustainable Development
A nationally consistent approach for monitoring land fragmentation in New Zealand
Productive land is under pressure from a range of competing uses including urbanisation, rural lifestyle block development and demand for increasing primary production. Poorly planned development can result in fragmented landscapes that lead to a number of impacts.
The impacts of land fragmentation vary depending on the context, but can include reduction of land available for primary production, generation of reverse sensitivity (where a newly introduced land use restricts or limits existing land uses), increased need for infrastructure and community service provision, increased demand for water or other resources, increased diversity of land uses and associated economic activities, and uncertain changes to habitat. Regional councils are increasingly aware of the potential impacts of land fragmentation, and many have introduced, or are introducing, policy to help minimise adverse effects of further fragmentation of their land resources. However, although land fragmentation has emerged as a relevant policy issue requiring attention, very few councils currently monitor or report on land fragmentation trends in their regions.
Landcare Research and the Council Land Monitoring Forum are working together to develop national guidelines for monitoring and reporting on land fragmentation. Initial research by Daniel Rutledge, Robbie Price and Georgi Hart included reviews of relevant sections of operative and proposed regional policy statements (RPSs) and plans and international and national literature, and a survey of all 16 regional councils and unitary authorities. The survey was organised into three topics: a) issues, b) policies, plans, rules, and consents, and c) information, data, and monitoring. We prepared an initial set of questions and presented them for discussion at a Land Monitoring Forum workshop in February 2013. The researchers modified the questions based on feedback received at the workshop. The survey ran from March through to June 2013. All regional councils and unitary authorities responded to the survey.
Contact: Daniel Rutledge
Website: Guidelines for monitoring land fragmentation
CEMARS video case studies
Two new video case studies on organisations involved in the CEMARS programme run by Enviro-Mark Solutions, a subsidiary of Landcare Research, are available to view online.
The case studies explore how both Auckland War Memorial Museum and the Kapiti Coast District Council have utilised the CEMARS programme to improve their environmental performance.
---
Video - Auckland War Memorial Museum
---
Video - Kapiti Coast District Council
---
Biodiversity
Adelie population booming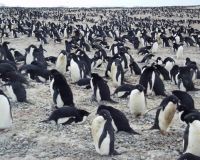 The Adélie penguin population in Antarctica's Ross Sea is booming, with numbers at the highest levels they've been for 30 years.
Counts from the 2013/14 aerial census survey show that there is over 1.3 million Adélie penguin breeding pairs breeding in the western Ross Sea over this past summer. Normally there are around 855,000 pairs breeding.
The population from this region makes up about a third of all Adélie penguins in Antarctica.
Research showing Adélie population trends over the past three decades published in the US-based science journal PLOS ONE is based on the count and ongoing research by Landcare Research scientists Drs Phil Lyver and Mandy Barron, Antarctica New Zealand and Bartonk Solutions from Nelson.
Adélie penguins are a recognised indicator species, used by scientists and the Antarctic and Southern Oceans management organisation, Convention for the Conservation of Antarctic Marine Living Resources (CCAMLR) to monitor possible changes in the marine ecosystem caused by perturbations such as climate change but also commercial fishing.
The long-term population records provide scientists with an understanding of the natural trends and variation in the Adélie penguin numbers which gives them greater ability to detect possible future changes from human-related influences.
The question now for scientists is what is driving the annual variation and increases they are seeing in the colonies. The high level of synchrony and correlation in annual growth rate amongst colonies suggests a common factor.
Contact: Phil Lyver
See: Adélie penguin population approaches 30-year high.
Ecosystem Services theme of latest 'Discovery' newsletter
Ecosystem Services is the theme of the latest Landcare Research external newsletter Discovery. Guest edited by Principal Scientist Dr John Dymond the newsletter provides an overview of what exactly ecosystems are, why they're so vital and some examples of our research into particular area.
See: Discovery Issue 39, June 2014
NVS supporting DOC's Biodiversity Monitoring Framework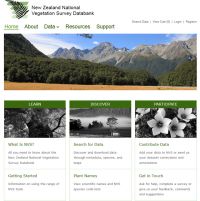 The National Vegetation Survey (NVS) Databank – a world leading repository for NZ's plot-based vegetation data – has been enhanced to support DOC's National Biodiversity Monitoring and Reporting System.
DOC's system is designed to collect data that supports management operations and reporting, and to assess the state and trend of NZ's biodiversity.
DOC has based its collection and data storage methods on the NVS platform because it provides a consistent and proven approach to managing NZ's most extensive record of indigenous and exotic plants.
NVS is a physical archive and electronic databank and contains records spanning more than 50 years. The databank comprises over 94,000 vegetation survey plots, including data from over 19,000 permanent plots.
The key enhancements made by Landcare Research's Informatics and NVS teams have been the inclusion of additional data collection methods specific to DOC's Tier 1 system, improvements in data validation and support systems, and for the first time the ability for DOC staff to enter data directly into the NVS database from within the DOC network. This allows DOC to organise data entry teams to meet their needs rather than relying on the resources of Landcare Research alone.
Informatics Capability leader Nick Spencer says the enhancements strengthen NVS' role as the country''s primary repository of plot-based vegetation data.
"In the future these new services will be available for other agencies, providing a pathway for improved management of vegetation and land use information in New Zealand.
Contact: Nick Spencer
Nationwide Garden Bird Survey begins this weekend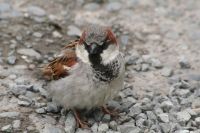 Kiwi nature-lovers are being asked for their help for an important wildlife survey – and you don't even have to leave your living room or school classroom to take part.
The eighth annual New Zealand Garden Bird Survey aims to track the fortunes of our familiar feathered friends through backyard bird watching – and by spending just one hour between 28 June and 6 July recording the birds that visit your garden, you'll provide wildlife experts with a picture of how both our native birds and other winged residents are faring.
Organiser Eric Spurr says it's vital that participants only record the largest number they see or hear at any one time to ensure that individual birds are not counted twice.
"For example, if you see one blackbird on your lawn at the start of your count but then it flies away, and later you see a blackbird fly back onto your lawn, the number you record is one, not two. However, if later still you see two blackbirds on your lawn at the same time then you should change your count from one to two.
"You don't have to watch your whole garden, just part of the garden will do. Also, you don't have to be outside to do the survey. You can do it from the luxury of your kitchen or living room looking out the window at part of the garden," Eric says.
The survey has been running for 7 years now, and some trends are starting to appear such as increasing counts of Tui and Fantail .
"However it is too soon to know whether these increases are part of a longer-term trend or just part of normal fluctuations in numbers over time. Seven years is not a long time, and the results of this year's survey could change the current trends."
House Sparrow (12.8 per garden) was again the most numerous species counted in our gardens in last year's Garden Bird Survey. The second most numerous, and most numerous native species, was Silvereye (7.5 per garden). These two species are by far the most numerous counted in our gardens.
Contact: Eric Spurr
Website: Garden bird survey
For full instructions, bird identification guides, and a copy of the survey form and an online data entry form.