Future scenarios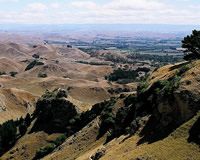 This objective will develop methods to explore future changes in national land use patterns and the corresponding implications for the composition and availability of ecosystem services (ES).
Future Scenarios comprises three parts:
Multiple land-use change modelling
National land-use change scenarios
Visualising changes to ES
Land-Use Change Model:
We will review and synthesise the state-of-the-art in research on land use and land-use change modelling from both international and New Zealand sources. Based on this review and on our previous research, we will develop a new multi-scale, spatially explicit model of multiple land-use change patterns that integrates land cover, land tenure, land use and management.
National Land Use Change Scenarios:
Combining the research on ES from Conditions and Trends, and the new model from our first goal we will develop a set of national land use change scenarios in consultation with stakeholders. The scenarios will consist of spatially-explicit forecasts of multiple land use 100 years into the future based on synthesis of information on key drivers and constraints of land use change such as land tenure, demographics, economic and social trends, climate change, energy, and representative regional and district policies and plans.