Downloads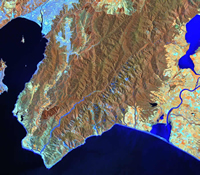 Guide
Brochures & Posters
Reports
| | | | |
| --- | --- | --- | --- |
| Title | Author | Year | File size |
| Climate Surfaces for New Zealand (Revised) | J. Leathwick, G. Wilson, & T. Stephens | 2002 | 2MB |
| Spatial Prediction of the Potential Range of Three Threatened Plant Species in the Waikato Region(1) | D. Rutledge, M. Merritt, & B. Burns | 2004 | 10MB |
| National biodiversity status: methods and summary results (2) | Rutledge, D., Price, R., Heke, H. & Ausseil, A. | 2004 | 3.3MB |
| New Zealand's indigenous cover: recent changes and biodiversity protection needs (3) | Walker, S., Price R., & Rutledge, D. | 2005 | 2.6MB |
(1) Report made available courtesy of Environment Waikato and the Department of Conservation
(2) Report made available courtesy of Ministry for the Environment, the Department of Conservation, and Local Government New Zealand,
(3) Report made available courtesy of the Department of Conservation and Ministry for the Environment
Tools
LENZ Distance v0.5 (34KB ArcView 3.x .avx file)
An ArcView extension that 1) calculates the environmental distance (Gower metric) used in the LENZ classification from a selected point to all other points in a view and 2) creates a new grid of the environmental distance values.
Copy the .avx file to your ...\arcview\ext32 directory. LENZ Distance will then be available via the Extensions dialog box that is accessed through the File menu in ArcView
Threatened Environment Classification
The Threatened Environment Classification is a source of broad (i.e. national) scale background information: specifically, how much native (indigenous) vegetation remains within land environments; its legal protection status; and how past vegetation loss and legal natural heritage protection are distributed across New Zealand's landscape.
The Threatened Environment Classification is a combination of three national databases: Land Environments New Zealand (LENZ), classes of the 4th Land Cover Database (LCDB4, based on 2012 satellite imagery) and the protected areas network (version 2012, reflecting areas legally protected for the purpose of natural heritage protection). The classification combines this information into a simple and practical GIS tool. 'Threatened environments' (categories 1 to 5) are those in which much indigenous vegetation has been cleared and/or only a small proportion of what remains is legally protected.