NatureHack
A weekend hackathon for creatives, designers and coders, ready to take on the challenge of building and launching new web services and apps.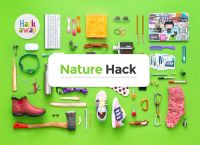 New Zealand, Aotearoa, is a country known for its nature – our wild and beautiful natural places are home to many species found nowhere else on earth. Globally, New Zealand is recognised as a 'biodiversity hotspot' - a place where an immense variety of birds, insects, plants, fungi and other life-forms live.

Increasingly, New Zealanders are aware of the importance of protecting and valuing our unique native species and environments: they are an important part of our natural heritage and what it means to be a New Zealander.

This Hackathon enabled New Zealanders and other global citizens to explore what makes our nature so special, promote its conservation and celebrate its intrinsic value. It also enabled young, talented entrepreneurs to create new value from information about the living species and environments that we have here in New Zealand. The information was sourced from several nationally-significant science collections cared for by Landcare Research on behalf of New Zealand.
The setup
The goal of Nature Hack was for teams to build a simple web service or app related to nature and/or wild life. An important part of the concept was to build something that "stands on its own". The focus was on execution, and creating something that is simple and actually works. In general, "Keep it Simple" is great advice for any hackathon.
The projects

Airbnbee
Team: Airbnbee
Winner of the Callaghan Innovation Award
Connecting landowners and beekeepers to support more bees and a healthier planet.
---
Fungus Time
Team: Hi Vis
Winner of the Peoples Choice Award sponsored by Ice Breaker and winner of the Air New Zealand Award

Live temporal & spatial data mapping tool for pattern insight and telling and discovering stories. Little more work to use with any data with space & time
---
TreeHugger
Team: Nay-Chur
Winner of the award for most novel use of Landcare Research data

TreeHugger was created to encourage people to stop and take a closer look at the unique beauty of the native tree and plant species found in Aotearoa, New Zealand. This app gamifies the identification of native species. Using geolocation via smartphone to provide the user with a list of different wildlife environments nearby and species that are likely to be found there, along with plant identification information and images. Users can unlock achievement badges and real-world rewards for their efforts while also learning about and appreciating this incredible country.
---
Tane
Team: Lost&Found
The whole idea of the application we wanted to build was centred around native bush and it's make up relevant to your location. This would work towards modelling the natural environment of a given area to deem it's health and aid in regeneration projects/efforts.
---
Recognita
Team: BiblioTek
For our project, we have utilised the NZOR, GBIF and ALA datasets with a set we brought along ourselves - the digitised Royal Society of New Zealand papers from 1868 to 1961. We have combined these sets in a web application, Recognita, that allows users to explore the overlaps between the various data sources. The aim of this is to present the historical Royal Society data in a contemporary context. In order to help users find a point of entry into the data, we have created a Twitter bot, '@RecognitaNZ', that will periodically publish links to various species which are featured in the app. Users can then follow these links to discover the Royal Society publications and data from the other data sources.
---

Tracking trapped animals
Team: Touchtech
We built a mobile app for tracking trapped animals. If park rangers find trapped animals they have to write it down with pen and paper and digitalize it later on. With our app they are able to do it instantly. The app uploads the collected data records to a webservice. The webservice displays this data crossed with other data provided by Landcare Research.
---
NatureDash
Team: Hot Source

NatureDash is a scavenger hunt for native species. The premise is that anytime your family goes on a bush walk, the app will use the Geospatial Biodiversity Survey Data to find native plants and DoC data to find animals in your area. So as you go on your walk you can start looking out for the native plants and animals that might be out and about. Match the images in the app with what you see and take the picture. The app can also act as an image data collection point and as more people spot these plants and animals, it will build a richer picture of the native species around us.
---
Back to our Roots
Team: Mischievous Meerkats

Using Landcare Research's GBIF database, we have created a web app, 'Back to our Roots'. This app allows users to directly see the effects of planting a native tree in their backyard. We aim to empower Kiwi's to build biodiversity into their backyards, in order to create a halo effect, not only around Zealandia, but around all of the native forests in New Zealand. We want people to deeply understand that everything is connected - the trees, the soil, the birds, and us. We are a part of this ecosystem, and we can do our small part to improve it. We invite kiwi's to be a part of this wider, long term vision to restore New Zealand's native ecosystems.
---
Farmers
Team: Crimson Dawn
An application that enable farmers to make better commercial decisions by harvesting data from across research institutes and presenting it in an simple way. Land metrics gives users metrics for land quality in an easy to understand way. Users click on a map and the application displays information for the selected property.
---
Forest API
Team: Ngahere o Pukenui

Te manu e kai i te miro, nona te ngahere; te tangata e kai i te matauranga, nona ano te ao This whakataukī expresses the aim of the project to tell the story of the ngahere, and the life and wisdom it offers the people who live in its vicinity… If the forest could talk, what would it say? If you could talk to the forest, what would you say? This Project helps identify, curate and manage the natural environment and recreation needs through access to deeper layers of information, while recognising and bringing 'alive' historic and cultural heritage. Already the partners have been working to bring together the arts, heritage, culture & sciences into conservation. We now seek to use technology and youthful spirit to digitally take the forest into the classrooms, and bring the classrooms into the forest.
---
EndoPoppo
Team: EndoPoppo

We want to understand human impact on New Zealand biodiversity. We've created a heat map of species biodiversity against population density. Future iterations would include showing other man-made impacts, including agricultural and industrial land use. We would also show how human impact affects how many native and non-native species are present as well as species endomicity.
---
Taxon/Taxoff
Team: Ruru-Iti

Taxon/Taxoff is an application which visualises the data from the NZ Organisms Register in a friendly, approachable way. Users can click on the taxon or species to focus on that element, and the tree will display all members of that taxon which can in turn be inspected by the user.
---
Hikr
Team: Matt and Caitlin and Liam

We have gamified the process of recording species occurrences with the intent of training users to better record them. This data can be sent back to landcare to improve current sets.
---