Our people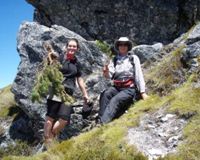 Image – Peter Williams
Our goal is to ensure our organisation has a culture that is adaptive in the face of change, attracts high quality talent, produces great leaders and an engaged workforce, and which is supported by effective systems and processes.
As a knowledge organisation, people – talented researchers and innovators – are our lifeblood; they underwrite successful science. The market for talented researchers is highly competitive, with top talent being globally mobile and highly sought after, particularly in environmental sciences. Our science facilities, culture and our philosophy of manaaki tangata – manaaki whenua play a vital role in attracting and retaining staff.
Our personnel policies and practices (and those of our subsidiary Enviro-Mark Solutions) comply with 'good employer' principles in accordance with section 118 of the Crown Entities Act 2004. However we seek to go well beyond this so that Landcare Research is perceived as an 'employer of choice' by our own staff, their colleagues in New Zealand and overseas, and by prospective employees. To this end, our People & Culture strategy focuses on four key areas: Workplace Culture; Leadership; Talent; and Compliance, Systems and Service.
Workplace Culture
'Manaaki whenua – manaaki tangata' (care for the land – care for the people) reflects the integration of our environmental research and our attitude to our communities, stakeholders and each other. To help build this culture, an internal working group of Tier 3 science and support leaders has been established. To date the group has focused on (1) the development of shared values, (2) an improved leadership development programme, and (3) individual resilience, including the introduction of a wellness programme open to all staff and their families. Landcare Research maintains a focus on very high Health & Safety standards. During New Zealand Safety Week, we recognised eight staff for their extra effort and commitment to improving our workplace Health & Safety.
In addition, 18 staff were recognised with Excellence Awards to recognise their distinguished service above and beyond the normal parameters of their work.
We actively foster an awareness and appreciation of mātauranga Māori in our workplace as well as in our science programmes. Our Guiding Philosophy recognises the Treaty of Waitangi, as does our Māori name.
Staff engagement
Our staff are highly motivated and we have a high level of engagement in what the organisation does and how it is done.
This year, 79% of our staff took part in the staff engagement survey. Despite a difficult year with reductions in operational and salary costs, engagement levels remain stable at 70% – well above the CRI average at time of survey. Our middle-tier science team leaders are the most engaged group of employees, which is pleasing as they are at the heart of the organisation and key to our performance.
Following last year's survey, all Tier 3 and Tier 4 leaders were encouraged to participate in Managing Non-Performance workshops. As a result, the latest engagement survey showed significant improvements in perceptions of performance measurement, management of non-performance and collaboration across teams.
Leadership
Our Senior Leadership Team comprises six General Managers (four male, two female) and a part-time Kaihautu who report to the Chief Executive. The Chief Executive is accountable to a Government appointed Board of Directors. However, operational management of staff and staff development, good employer initiatives, health and safety, systems support, procurement, infrastructure, environmental performance and compliance are devolved to specialist line managers. Performance is monitored and reported monthly to the Senior Leadership Team and Board of Directors.
Our science programmes are structured into 10 Portfolios; Portfolio Leaders are a tier 3 position accountable to General Managers. Portfolio leadership is a part-time role, ensuring staff also have time to pursue research.
We manage our science and IT capability within eight teams that report to the Chief Scientist. Teams are the long-term collegial 'home' for staff where they are able to develop skills and experience, plan career paths, and develop new ideas. The Chief Scientist and Science Team Leaders service the changing capability and capacity needs of the Portfolios.
The pan-CRI leadership framework has been used to refresh our internal leadership development programme for Tier 1 and below. Complementary to this, a pan-CRI proposal for a joint senior leadership programme is underway. This will enable unique networking opportunities and sharing of common leadership challenges and associated solutions.
All Team and Portfolio Leaders meet regularly to discuss strategic, management and performance issues with General Managers and the Chief Executive.
In planning for future needs, we are committed to fostering career development opportunities for our younger scientists, the leaders of tomorrow. We use internal and external development programmes to build resilience in managerial expertise and leadership, and to further develop our bicultural capabilities.
Additional links