Our environmental performance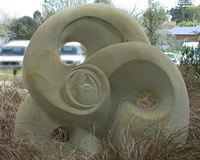 Carving at our Hamilton office. Carving by Jocelyn Pratt.
Given the nature of our business, it is obvious that we should be managing our operational activities to minimise any adverse impacts on the environment and our communities. This is enshrined in both our Guiding Philosophy and our Sustainability Policy.
The Senior Leadership Team and Chief Executive are responsible for all aspects of company performance. At an operational level, much of the management and decision–making devolves to Tier 3 and Tier 4 line managers such as the Property Procurement and Sustainability Manager and the Compliance and Risk Manager, who work directly with science and support teams. At all of our larger sites we have voluntary Sustainability Groups that contribute ideas to improve our performance and champion sustainability initiatives at a local level.
We have an ISO 14001 certified environmental management system. A full complement of manuals, environmental effects registers and regularly updated operating procedures are maintained on our intranet so they are always accessible to all our staff.
The stringent independent audit by AsureQuality confirmed that we continue to be a carbon–neutral organisation and carboNZero certified.
Additional links