Good employer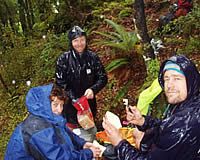 Fieldwork. Image – Mike Perry.
Turnover
Total staff (FTEs) in 2014/15 = 313 compared to 315 in 2013/14 and 356 in 2011/12.
Turnover across all staff was 8.0% for the year (science teams = 6.4%, science support = 13%, general support = 10.5%). Turnover of key senior scientists (Science Team Leader or Science GM) = 6.6%.
Health & Safety
Landcare Research maintains a safe workplace for staff, visitors and contractors, as reflected in the commitment to our ACC Workplace Safety Management Practices certification.
We endeavour to provide all workers with comprehensive guidelines, training, mentoring and support to ensure their well–being in the office and field. Employees with any potential exposure to Bovine TB are regularly monitored. Forty–four staff including six union (the PSA) representatives have input through site H&S committees at our five largest sites all committees draw on other staff 'experts' as required. Site Committees report through to the National Health & Safety committee made up of relevant senior staff including Senior Leadership Team and Board representation.
| Year ending 30 June: | 2011 | 2012 | 2013 | 2014 | 2015 |
| --- | --- | --- | --- | --- | --- |
| Hours lost through injury (per million hours worked) | 18.60 | 358.2 | 77.6 | 36.7 | 0 |
| Accidents/incidents reported | 24 | 46 | 38 | 25 | 20 |
| Injuries resulting in lost time | 1 | 1 | 1 | 2 | 0 |
| Lost time injuries per million hours worked | 1.4 | 1.4 | 1.4 | 3.3 | 0 |
| Average days lost per lost-time injuries | 1.8 | 40.6 | 7.0 | 1.5 | 0 |
Around mid-year, the Board of Directors oversaw a review of our H&S performance with a particular focus on key risk areas. Field work continues to present the most numerous and wide-ranging significant hazards faced by staff and sub-contractors. Because of this complexity, annual Field Forums are held to discuss emergency responses and other health and safety issues of importance to our field staff.
The operation of ATVs (Quad bikes) is one of the highest risk aspects of our field activities. A safer alternative to ATVs, a two-seater Multi-utility Vehicle (MUV), was added to the Lincoln vehicle fleet this year and it has proved popular with staff. If it passes muster in a range of field environments there is potential for the ATV fleet to be phased out.
In 2015 the Board and Senior Leadership Team developed a Leadership Charter for Health & Safety demonstrating a commitment to our vision for a safe and healthy workplace.
With the exception of some senior staff, where it is optional, all employees have automatic life–insurance cover and income–maintenance insurance.
Field Forum
Each year we hold a 'field forum' focusing on H&S and other issues relevant to staff who work in the field. Our typical outdoor work environments can be very challenging, with field staff often working in rugged remote terrain and through all weather. The experience, skills and good judgment of field staff are vital to safety.
Staff wellness
Landcare Research has continued to provide opportunities for employees to access wellness checks with medical providers. Most sites have arrangements with the local university fitness centres enabling staff to join at discounted rates. We continued to invest in our 'wellness programme' that is delivered through the web and is also open to the families of staff.
Annual influenza injections are provided free of charge to all employees wishing to take advantage of this preventative measure.
This year, staff took an average of 4.2 days paid sick leave – 0.9 days of which was 'domestic' leave where staff used sick leave in order to look after another member of the household or other dependent in need of care. Each year on 1 July, employees are allocated 9 days paid sick leave or some lesser amount if their accumulation is more than 21 days, i.e. the maximum number of days that can be accumulated by each employee is 30.
Equal Employment Opportunities (EEO)
Landcare Research is a member of the EEO Trust and is committed to equal employment principles for all staff. The EEO Trust has regional forums and surveys, in which Landcare Research participates. This is a useful and practical means of sharing experiences, resources and processes across a wide spectrum of organisations. We continue to support the Workbridge Programme with one employee funded through this mechanism.
Gender, age, length of service & pay equity
Four of our eight Directors, including the chair are female. Two of our seven General Managers are female and the CEO of our subsidiary Enviro-Mark Solutions is female as is the Director of the Landcare Research hosted Biological Heritage National Science Challenge. Gender equity in our tier three leaders is evident in both structure and remuneration.
We employ the best person for the job: Of the 19 scientists recruited during the year, 4 were female; 5 out of 6 technicians employed were female; and 80% of support staff employed were female.
When CRIs were first formed in 1992, wildlife ecology (particularly animal ecology) and soil sciences were dominated by male scientists. It is pleasing to note that our early policies to achieve more equitable gender balance and encourage more women into these science fields have produced the desired results. This is highlighted in the average length of service for male and female science staff, and the age distribution of males and females.
In 1992, Landcare Research inherited a situation where the average starting rate for a male scientist was 15.6% greater than that of female scientists – an inequity that we have proactively addressed. While the average base salary for male scientists is still slightly higher than that for female scientists, this is due to length of service with Landcare Research. Male PhD-qualified science staff have worked with the company for an average of 16.23 years and have an average age of 50.23 years, whereas PhD-qualified female science staff have worked for 13.09 years on average and have an average age of 46.36 years. As well as monitoring and addressing any potential gender bias in pay equity, Landcare Research has also continued efforts to address equity issues relative to what our staff are paid compared to other CRIs and the science sector in general. We provide benefits in addition to base salary (e.g., employer contributions to retirement fund schemes, life insurance and income maintenance protection). Landcare Research is committed to band reviews for our science staff, these are done on request. This combined with our workforce planning, training and leadership development programmes, facilitates career development and movement up through the science bands, particularly for younger staff.
Average Salary
Average Career Age
Average Years of Service
Number of Employees
Band
Female
Male
Female
Male
Female
Male
Female
Male
1
45,575
31,286
-
-
11
0
1
1
2
52,585
51,177
12.9
14.4
7
20
11
4
3
59,704
61,964
13.1
21.2
10
18
31
25
4
74,626
77,359
12.7
15.1
12
13
22
43
5
94,593
96,033
14.9
18.9
15
17
18
51
6
-
114,033
-
26.1
-
23
0
7
9
145,066
162,394
21.4
29.5
15
27
11
18
Commitment to Treaty Responsibilities
Landcare Research has a >20–year history of research projects with iwi. Initially projects focused on developing geographic information systems (GIS) to represent cultural values and interests, and on protecting taonga species. However, Māori are increasingly moving to a post-Treaty settlement phase where returned assets are being developed. They are looking for science and innovation to enable them to meet their aspirations, realise business opportunities, and achieve sustainable management of natural resources.
Māori contribution to the national economy ($40bn assets) is concentrated in the primary sector (e.g. farming, forestry, fishing), which can expose Māori to global economic shocks. Entities such as Ngāi Tahu, central North Island iwi, and Waikato–Tainui are seeking to build resilience and environmental sustainability, and grow their asset base by expanding global business and export interests, markets and networks to accelerate sustainable Māori economic development.
Māori goals, principles and knowledge systems (mātauranga) are increasingly being employed in national frameworks for natural resource management. Māori, business and government acknowledge that to realise Vision Mātauranga, Māori must fully participate in the RS&T sector, and the process must recognise and reflect the holistic Māori world view.
Landcare Research is committed to increasing its integration of science and mātauranga Māori across all four of our National Outcomes. New projects should lead to integrated knowledge services and tools (e.g. linking biodiversity, land use, greenhouse gas offsetting and business opportunities) that enable Māori to use our research, technology and information.
Landcare Research continues to build its core Māori capacity and a strong bicultural ethos. The appointment of a GM Māori Development in 2015 demonstrates this commitment and gives the wider organisation confidence to develop strategic partnerships with iwi and Māori organisations. Similarly, we continue to form responsive, long–term relationships with iwi and Māori organisations, as demonstrated through a suite of collaborative projects that attract Māori investment.
Labour relations – Collective Agreement
The Public Services Association (PSA) is the only union representing staff. Membership is voluntary and 44.89% of staff belong. A Collective Employment Agreement (CEA) is negotiated with the PSA, and covers all PSA members below the Tier 3 Managers. (except at senior levels, Individual Employment Agreements for staff who are not PSA members generally mirror the collective agreement.)
Our CEA was renegotiated in July 2013, with minor administrative amendments and conservative approaches to remuneration increases for the 2013/14 and 2014/15 financial years. In 2012/13 a joint remuneration working party with representatives from management and the PSA reviewed our remuneration and profit share policies. This involved considerable teamwork over a period of almost a year. The process resulted in the successful redesign of our science remuneration bands and developed transparent remuneration bands for support staff. We also updated our profit share policy including making it more transparent and limiting eligibility for this at senior levels.
Quarterly meetings are held with Management and representatives of the PSA to ensure open communication and to discuss and resolve any issues either party may have.