Can we manipulate denitrification processes to reduce nitrous oxide and increase dinitrogen emissions?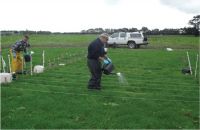 Professor Surinder Saggar is leading the Landcare Research and New Zealand Agricultural Greenhouse Gas Research Centre (NZAGRC) funded work on denitrification. Even though denitrification is the primary process of nitrous oxide production in pasture soils, there is still much more to understand about the controlling factors.
Much denitrification research to date has focussed on reducing nitrate in waters rather than gaseous emissions into the atmosphere. However, with increasing concern about greenhouse gas emissions, scientific interest in the denitrification process is growing.
"In an ideal world, we could reduce the amount of nitrate in the system to zero, by using inhibitors or alternative technologies, and thus eliminate agricultural nitrous oxide emissions", says Surinder. "However, this is not currently possible and we need to acknowledge nitrate is present in the system and work out how to change it to the benign gas dinitrogen. Not much research has been conducted on what to do once the nitrate is formed in soils or even what is happening in the denitrification process". Certain microorganisms have the capacity to change nitrate into nitrous oxide, and some can change it to the environmentally friendly dinitrogen.
Difficulties in accurately measuring dinitrogen production under a nitrogen-rich atmosphere and identifying denitrifiers (and/or underlying enzymes) are key bottlenecks in the denitrification research. To address these bottlenecks, funding from Landcare Research is being used to develop a direct and simultaneous quantification procedure for nitrous oxide and dinitrogen measurements to improve understanding and estimation of gaseous losses of nitrogen.
NZAGRC is currently funding work on manipulation of soil and environmental conditions. This research has so far shown that New Zealand dairy-grazed pasture soils have wide variations of denitrification enzyme activity, denitrification rate, and nitrous oxide to dinitrogen ratio. The key soil factors influencing these (and thus the amount of nitrous oxide produced) include nitrate concentration, Olsen P, soil moisture, soil microorganism biomass, and soil carbon status.
Figure 2. Static chambers are installed for field measurements of nitrous oxide emissions from plots treated with and without cattle urine, by Peter Berben (left) and Thilak Palmada.
The next steps of the research will focus on understanding how soil, climatic and/or microorganism parameters affect the functioning of microorganisms and associated enzymes, and how these can be manipulated. For example, nitrous oxide can be produced by several enzymes and microbial pathways but bacterial nitrous oxide-reductase is the only enzyme capable of reducing nitrous oxide to dinitrogen. Key enzymes identified in the denitrification process all have their own specific optimal working conditions. That is, some do their job most efficiently at high or low soil pH and soil water conditions, and others require the presence of other elements (e.g. copper) to work at all. Exploitation of these differences may provide potential routes for future nitrous oxide mitigation.
Surinder Saggar