Better management of environmental data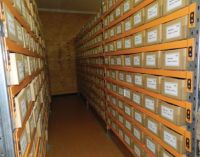 At a time when we require comprehensive information about environmental state and trend, we also seek better return on investment in data collection through reuse and secondary use of existing data. Landcare Research also has to meet contractual obligations and fulfil mandates from Government to improve access to data, as well as international obligations to provide open access to science data. So what is Landcare Research doing about this?
First, we recently conducted an audit of the soil and land data assets that Landcare Research holds. The focus was wide, including the physical collections, e.g. the National Soil Archive (Figure 1), non-digital and digital data, held by individuals and within the institutional data management framework. The audit identified areas of concern: much of these data are poorly managed and some are at risk of being lost; some 75% of the institutionally managed data have no on-going funding; 19% have on-going funding for maintenance only, e.g. the New Zealand Land Resource Inventory (NZLRI) and the National Soil Database (NSD); and much data is not fit for today's requirements but could be with some investment. The data held by individuals, however, seem to have untapped value, being more current, of better quality and at larger scales – yet are essentially unknown or only known by a few people.
Second, a short Envirolink funded project has assessed the current status of the National Soil Database (NSD) and scoped a roadmap for its future. The review canvassed future requirements for the NSD from users in five regional and unitary councils, data managers and domain experts. The result is a new vision for the NSD that seeks to improve data management and data access, better indicate varying data quality, and integrate related data to add value to the NSD as a whole.
The final activity, starting very shortly, will seek stakeholder's views on how the NZLRI might be improved. This "nationally significant database" is often referred to as a "nationally consistent" view of the natural resources of New Zealand. It has been widely used in land-use planning for at least 35 years, and is frequently quoted in central, territorial, and local government policies, and in resource consent hearings. However, the NZLRI has a number of shortcomings that increasingly raise questions about its 'fitness for purpose'. LCR staff have already begun to develop a set of recommendations to address these shortcomings but we will also seek feedback from key users on their needs and the proposed improvements. As for the NSD, since these improvements will require significant work, new funding will be needed.
So we are taking the first steps towards improvement. Our goal is to ensure the continuing availability of authoritative soils and land data assets of long-term value to support research, for use by our stakeholders, and for wider exploitation for the public good. However, there is increased user demand for customised data and information products. Creation of these products is one of the goals of the new NLRC. Staff from the NLRC will work with stakeholders to determine their needs and the potential to create new, more usable, and more focused products and services using data held by Landcare Research, other CRIs, and agencies.
David Medyckyj-Scott