Innovation Case Studies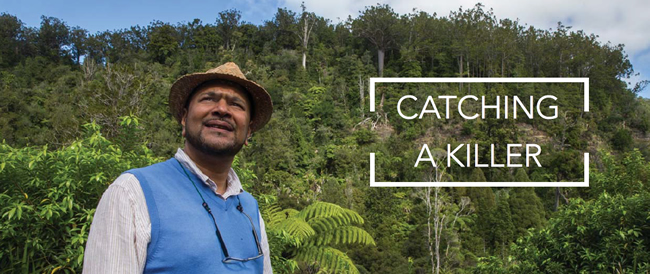 Stan Bellgard says innovative science will help catch a pathogen killing kauri forests.
Catching a killer

In Western Australia, where Stan Bellgard is from, they call Phytophthora a 'biological bulldozer'. Catchy name, isn't it?
And Phytophthora agathidicida (or PTA), more widely referred to by New Zealanders as 'kauri dieback', is proving equally destructive. The pathogen has infected New Zealand's kauri forests in the upper North Island, threatening the viability of the iconic taonga tree. Dr Bellgard and his colleagues at Landcare Research share a unique connection to the dieback story: they made the critical discovery that PTA is a new species to science. The killer now had a name and the Landcare Research team had made an important taxonomic discovery. But the push to stop the killer had only just begun. As Dr Bellgard explained, "We clearly needed to find an innovative solution so Landcare Research decided to adopt the holistic Māori world-view and started asking whether there were any beneficial microbes and plants associated with healthy kauri that could be added to the soil to combat the pathogen and aid kauri's inner health."
Landcare Research mycologist Dr Maj Padamsee recently described the fungal partners that live in the short root nodules of kauri. These helper fungi, called mycorrhizae, are known to be associated with plant protection against root-pathogens. "We are also looking at other solutions," said Dr Bellgard, "for instance, whether any resistance in the remnant kauri population could provide clues on how to stop it". Phosphite treatments cause diseased trees to produce callous tissue, walling off the infection. And that has given hope that other, additional plant growth promoters, 'super-charged' with pro-biotics, may help too. Mindful that it may take decades to discover a cure for kauri dieback, Dr Bellgard has forged community and cultural partnerships to increase awareness of the risks, and up-take of management interventions.
Contact: Stan Bellgard
E: bellgards@landcareresearch.co.nz
Full story »

Discovering prosperity by planting diverse pastures

Landcare Research scientists have made an important discovery to help the grass grow under farmer's gum boots. Soil scientist Dr Paul Mudge, in collaboration with DairyNZ, discovered the introduction of herbs into ryegrass pastures can increase annual dry matter production by 1.3 tonnes per hectare. The findings, achieved by mixing the likes of chicory and plantain with ryegrass, were discovered during an experiment on DairyNZ's Scott Farm near Hamilton. New Zealand farmers have good ryegrass/clover pasture production models, but currently they don't have any way of modelling more diverse pasture mixes. Dr Mudge's ongoing research aims to use predictive models linking productivity to soil and climate to identify areas in New Zealand that are most likely to benefit from more diverse pastures. The ultimate goal of Landcare Research is to provide information to farmers so they can identify the optimal pasture species and species mixes for specific soil and climate combinations throughout New Zealand. More diverse pastures could reduce dependence on supplementary feed in drier areas, while helping farmers adapt to increased water deficits expected under climate change. There are also potential environmental benefits from integrating more diverse pasture mixes into farm systems: increased carbon sequestration in soil; reduced N leaching and N2O emissions; improved water use efficiency and resilience to drought stress; and less reliance on fertiliser inputs.
Contact: Paul Mudge
E: mudgep@landcareresearch.co.nz
Full story »
A Cape to City conservation success story

It's one of the largest wildlife restorations in New Zealand and Cape to City programme leaders are optimistic the Hawke's Bay project will become a template for large-scale renewal of New Zealand's unique biodiversity. Predator control and ecosystem restoration is usually confined to small-scale reserves and sanctuaries. Cape to City encompasses 26 000 hectares of private and public land, most of it productive farmland, between Havelock North and Waimarama Beach, which involves 120 landholders. The programme aims to allow native species to thrive where people live, work, and play, which should see biodiversity, and economic and social gains.
The $6 million jointly funded collaboration has brought together the expertise and know-how of the Aotearoa Foundation, Hawke's Bay Regional Council, the Department of Conservation, and Landcare Research. The project is making an important contribution to New Zealand's Biological Heritage National Science Challenge. An extensive research platform underpins activities, which allows for an evidence-based approach to management, documents the results of work in peer-reviewed literature, and includes training and development opportunities for students. Hawke's Bay Regional Council (HBRC) biosecurity advisor Rod Dickson said lizard and weta numbers at Poutiri Ao ō Tāne had "gone through the roof" since pest control began. "We've already started to see tomtit and robin turn up at Te Mata Peak (from Cape Sanctuary)."
Contact: Grant Norbury
E: norburyg@landcareresearch.co.nz
Full story »
Landcare Research scientists Dr Carolyn Hedley and Dr Pierre Roudier have developed a faster, more efficient soil scanner using space age technology.
A soil scanner from space age science

Landcare Research is using sensor technologies, similar to those used on the Mars Rover, to rapidly scan soils and estimate soil organic carbon stocks.
Visible near-infrared (Vis-NIR) spectroscopy is being used on a custom-made soil scanner by Landcare Research, as part of a Global Research Alliance (GRA) project. Landcare Research senior scientist Dr Carolyn Hedley said similar technologies are used in space exploration, including Mars Rover, for remote sensing of far-off planets. "The Mars Rover has attached sensors that collect information from the surface of the planet that help scientists infer what minerals Martian rocks contain. Space exploration helped to develop new technology such as soil spectroscopy."
This research is required because globally we need improved ways of estimating soil carbon stocks so that land owners can be audited and rewarded for any carbon sequestered into soils. Traditional methods of field soil collection are very time consuming and costly. In contrast, this new sensor 'survey–scan–predict' method offers opportunities to drive down the degree of uncertainty associated with estimations of soil organic carbon stocks. Dr Hedley said, "There is two to three times as much carbon in the soil as in the atmosphere. Even a very small increase in soil carbon globally is actually a mitigation strategy for removing carbon dioxide from the atmosphere".
Contact: Carolyn Hedley
E: hedleyc@landcareresearch.co.nz
Full story »
Landcare Research researcher Paul Peterson with a handful of heather beetles, another biocontrol agent that's helping New Zealand beat its weed problem.
Hungry helpers beat weeds and save country millions

Waikato dairy and beef farmer Steve Fagan was sceptical to say the least when tiny beetles were released on his farm about 25 years ago to control ragwort.
"When Jim Laurenson, the local biosecurity officer, released flea beetles onto my property, I said he was a fool to do so. I thought it was a big joke." But he would later eat his words. "Ten years on, I went back to shake his hand and say thanks," Steve said. The biocontrol agent was introduced as part of Landcare Research's Beating Weeds Programme. The programme not only introduces biocontrol agents – like the highly successful ragwort flea beetle – but also creates weed distribution databases, models populations of biocontrol agents and weeds and the impact of predation on biocontrol agents, and optimises biodiversity outcomes.
New Zealand has a serious problem with exotic weeds that costs the country more than a billion dollars each year. It is estimated that, unless current weed control is improved, weeds will threaten over 575 000 ha of high priority conservation land within 10–15 years. Taking effective and environmentally safe action against weeds stands to benefit the New Zealand economy by millions of dollars each year as illustrated by a quantitative study, the first of its kind, by Landcare Research, which found the ragwort flea beetle is saving dairy farmers $44 million every year in control costs alone.
Contact: Lynley Hayes
E: hayesl@landcareresearch.co.nz
Full story »
Smart science tackles land use problem for farmers

It's hard for farmers to turn a profit at the best of times, let alone while reducing their nitrogen footprint. But a study by Landcare Research has found farmers can achieve both. Mike and Sharon Barton farm within the vicinity of Lake Taupō. Due to concerns about the health of the lake, the Waikato Regional Council set nitrogen discharge caps on farms to reduce the amount of nitrogen entering the lake by 20 per cent (approximately 170 tonnes). Findings from a 5-year study by Dr Malcolm McLeod, a soil scientist at Landcare Research, found nitrogen leaching from cut and carry lucerne – where the leafy, high protein forage is harvested and baled into hay or silage – is 5 kg per hectare per year, significantly less than the 19 kg per hectare per year set by the Waikato Regional Council and than previous estimates of up to 26 kg per hectare per year.
This gives farmers a lot more leeway as they may only have a discharge allowance of between 12 and 20 kg of nitrogen per hectare per year. Dr McLeod said the findings were great news for farmers. "Costs are going up for farmers and the nitrogen cap limits how much production they can do but lucerne provides a potential alternative. Now they know how much it's leaching, they can put in quite big areas and increase production."
Contact: Malcolm McLeod
E: mcleodm@landcareresearch.co.nz
Full story »
Methane-eating bacteria give farmers a filter for the future

Two Landcare Research collaborations – one that mitigates methane, the other a more accurate measure of nitrous oxide – may hold the key to New Zealand meetings Greenhouse Gas (GHG) emission reductions. A filter made of soil or other cheaper and more readily available materials (compost, biochar, weathered pine bark) and packed with a very active methanotroph population – bacteria that eat CH4 - consumed most of the CH4 delivered to it. Mitigation of CH4 using biofilter technology could offer the most economical and environmentally friendly way of reducing emissions for an average-sized dairy farm.
Landcare Research scientist Professor Surinder Saggar said, "The world is searching for answers in the post-Paris climate agreement environment and the biofilter, in my opinion, has great potential". Professor Saggar is also heavily involved in research on improving New Zealand agriculture's GHG Inventory, including the possible overestimation of our N2O emissions. Using New Zealand specific data from a national series of hill country experiments, he has devised a methodology that proves New Zealand's total national agricultural N2O greenhouse inventory is 18% lower than previously recorded. This includes a 58% reduction in emissions from hill country farms. Based on the current New Zealand Carbon Unit price of $15, these emission reductions correspond to between $25.9 million and $35.4 million in reduced liability for our beef, sheep, and deer sector.
Contact: Surrinder Saggar
E: saggars@landcareresearch.co.nz
Full story »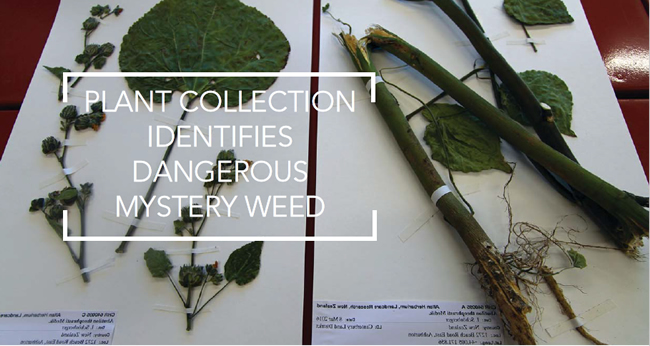 Two of the now dozens of Velvetleaf specimens that Landcare Research has carefully preserved and added to its Allan Herbarium collection.
Plant collection identifies dangerous mystery weed

The Environment Canterbury biosecurity team remember it sitting "on the smoko room table and not having any idea what it was".
An Amberley farmer found it, a suspicious looking weed, and Lance Smith, an ECan biosecurity officer, decided to send it to the plant identification service at Landcare Research. As manager of Landcare Research's plant identification service, Ines Schonberger identified Smith's plant as Abutilon theophrasti or Velvetleaf, one of the world's most invasive pest plants, damaging arable crops by competing with them for nutrients, space and water.
Dr Schonberger has a rather formidable arsenal of tools at her fingertips, including the Allan Herbarium, which holds New Zealand's largest nationally significant collection of plants. The herbarium is a modern research tool of taxonomic records, some dating back to 1870. Many have been digitised, so anyone with internet access can visit and search the collection. Dr Schonberger calls the diagnostic tool a "one-stop shop for any biological endemism in New Zealand" and a way of future-proofi ng the collection. "Biosecurity officers use the tool to find weeds and specimens and by the end of the financial year there will be close to 3000 images published on it, some dating back to 1870."
Contact: Ines Schonberger
E: schonbergeri@landcareresearch.co.nz
Full story »
Dr Bevan Weir collects another fungi specimen near Glenorchy, Queenstown.
Fungi join fight against infection

A collection of New Zealand fungi could play a vital role in solving one of the world's most serious health concerns.
Microbes have evolved to become resistant to known drugs, including antibiotics, the importance of which cannot be overstated. A report commissioned by former British Prime Minister David Cameron concluded this resistance could lead to 300 million premature deaths by 2050 and cost the global economy up to £64 trillion. Scientists are therefore searching the world for solutions and here in New Zealand Landcare Research is playing a leading role.
Researchers are methodically trawling through the Crown Research Institute's collection of about 10 000 fungi specimens looking for any medicinal properties that could fight infections. New Zealand scientists have been collecting fungi for a century and Landcare Research is the current custodian of the fruits of their labours. Scientist Bevan Weir believes a solution could be waiting to be discovered in one of the specimens. "What we hope to discover are novel antibiotics with completely new chemistries, new molecules or classes of molecules that have not been discovered before," he said. "It is reasonable to assume fungi in New Zealand might have evolved different antibiotic strategies to kill bacteria from what has previously been seen elsewhere."
Contact: Bevan Weir
E: weirb@landcareresearch.co.nz
Full story »