Home

»

New database to identify plant fungi
New database to identify plant fungi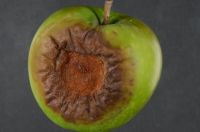 Landcare Research plant pathologists have played a key role in creating an international DNA barcode database to help identify one of the world's most problematic plant fungi.
Colletotrichum, ranked among the top ten fungal diseases, is a genus with over 100 species, some of which are widespread and of little concern, while others could impact our primary industries and need to be intercepted at the border.
Launched in 2013, the database is being used to ensure samples collected by Ministry for Primary Industries staff can be quickly and accurately identified by DNA analysis. It can also be used to maintain our important primary exports as any Colletotrichum fungus found on our goods arriving in overseas markets can be quickly identified.
To create the database, Landcare Research staff collaborated with counterparts at research organisations in the Netherlands and United Kingdom, as well as members of the International Subcommission on Colletotrichum Taxonomy.
The high quality of the database has meant it has been swiftly adopted by biosecurity agencies around the world. Multigene sequences from every known Colletotrichum species are included in the database, including a relatively innocuous species found on native New Zealand plants called Colletotrichum aotearoa.
The insidious nature of some Colletotrichum species is evident in one of the common diseases it causes, Anthracnose - better known as Bitter Rot on apples. The disease can develop while fruit is on trees or post-harvest. Its spores can spread by the movement of water such as rain splashes. The disease can remain dormant and invisible on fruit for sometime before attacking it, often as the fruit weakens with age. An initial brown lesion on the surface of the fruit quickly develops into a large rotten spot with orange spores, symptomatic of most Colletotrichum-related diseases.
Inga Meadows, of MPI's Plant Health & Environment Laboratory says that as a number of species of Colletotrichum are not present in New Zealand and are regulated at the border, it's crucial that MPI can accurately identify the species intercepted on plants. "The database provides us with an invaluable resource as we can depend on it for reliable and up-to-date information based on multiple gene sequences."