Home

»

Issue 7, August 2014
Issue 7 Special Issue, August 2014
STOP PRESS
eFlora of New Zealand mosses being published online
A milestone has been achieved in New Zealand botany with the publication of six family treatments for the Flora of New Zealand, Mosses.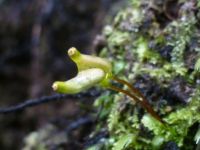 These new treatments are for the Amblystegiaceae, Buxbaumiaceae (e.g. Buxbaumea novae-zelandiae, right), Encalyptaceae, Entodontaceae, Ephemeraceae, and Erpodiaceae.
Dr Allan Fife, the author of these treatments, commented: "Some 18 months ago, Peter Heenan, Ilse Breitwieser, Aaron Wilton, Jessica Beever, and I concluded that progressive publication of individual family treatments, as part of the eFlora, would be an effective way to move the Moss Flora project to completion. The first six 'fascicles' published are the initial outcome of that decision. We hope that this incremental publication will make more manageable the task of completing the Moss Flora, expedite the distribution of taxonomic and associated data on New Zealand mosses, and encourage feedback from users of the eFlora."
The largest family treated in these first six fascicles is the Amblystegiaceae. Allan Fife considers this predominantly aquatic family as "the most taxonomically challenging among this cohort of families. The members of this family are conspicuous, often dominant, plants of wet habitats such as wetland pools, lake and stream margins, and roadside ditches. Like many water-loving plants, they are morphologically variable, making their taxonomic interpretation exceedingly difficult. The treatments of the other five families posed less taxonomic difficulty."
The eFlora publication of the Moss Flora heralds an innovative new way of delivering information on New Zealand's indigenous and naturalised mosses.
There are 68 families of mosses in New Zealand and over the next 3 years these will be progressively published in the eFlora, with each family being published as a separate fascicle.
In the next few months Allan Fife's treatments of moss families Bruchiaceae, Bryaceae (e.g. Bryum laevigatum, right), Cyrtopodiaceae, Fabroniaceae, Hylocomiaceae, Hedwigiaceae, Leptodontaceae and Meesiaceae will be published as part of the eFlora.
Dr Jessica Beever's treatment of the Fissidentaceae is now completed and ready for publication in the eFlora.
The eFlora makes these new moss family treatments available in two ways.
The eFlora moss treatments include keys, accepted names and synonyms, descriptions, etymological, distributional, habitat, and other notes. Each species is illustrated by line drawings prepared by Rebecca Wagstaff. In the future we hope to produce other profiles that will be tailored to various user requirements.
Considerable resources have gone into the eFlora, which was conceived by Dr Aaron Wilton and developed in collaboration with his informatics colleagues Bavo de Pauw and Margaret Watts. The production and delivery of Allan Fife's and Jessica Beever's new eFlora moss treatments involve a large team of people. Some of the key tasks have included: eFlora editorial standards and guidelines (Ilse Breitwieser, Patrick Brownsey, Peter Heenan and Aaron Wilton); reviewing and editing manuscripts (Rod Seppelt, Jessica Beever, Sue Gibb, Bill Buck, Peter Heenan and Christine Bezar); updating names and literature in Ngā Tipu o Aotearoa – New Zealand Plants database (Sue Gibb); drawing and preparing images (Rebecca Wagstaff, Rod Seppelt, and Kate Boardman); and uploading and formatting text (Katarina Tawiri and Sue Gibb).
Two other new eFlora treatments have also been published electronically and as a pdf.
For further information on the eFlora please contact the project Editor-in-Chief Dr Ilse Breitwieser or Allan Herbarium research leader Dr Peter Heenan, and for information on the moss treatments contact Dr Allan Fife.
Below: Hedwigia ciliata (Hedwigiaceae) and Racocarpus purpurescens (Racocarpaceae): species within two of eight moss families soon to be added to the eFlora.