Home

»

Issue 12, April 2016
Issue 12, April 2016
Latest news
Refresh of New Zealand Organisms Register (NZOR) Data. NZOR provides the infrastructure that enables access to a single, consolidated list of taxonomic information for NZ. NZOR was developed with the support of TFBIS1 funding but it has not been possible to update the data since 2012. A contract has recently been signed with the Ministry for Primary Industries, Department of Conservation and Ministry for the Environment that will enable the data within NZOR to be refreshed by June 2016.
Free app to identify native orchids now available. The NZ Orchid Key allows users to identify a species by selecting from a series of features, including leaves, flowers, habitat and distribution, to reduce the range of possibilities. New Zealand has more than 120 species of native orchids, with over half found nowhere else in the world. Many are threatened and have high conservation values, and Landcare Research scientist Murray Dawson, creator of the app, hopes the new software will help protect threatened species by helping people identify them. The app was jointly produced by Landcare Research and the New Zealand Native Orchid Group (NZNOG), and can be downloaded via the Landcare Research website, Apple App Store or Android Google Play Store.
1Terrestrial and Freshwater Biodiversity Information System, administered by the New Zealand Department of Conservation
Peter Heenan will leave the Allan Herbarium on April 30th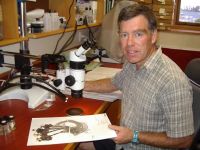 After 26 years of service Peter has decided it is time for change. He will continue to contribute to New Zealand botany in his new position with Wildlands Consultants as a senior ecologist. His departure will be a great loss to the Allan Herbarium.
Peter started at Landcare Research's predecessor organisation (DSIR Botany Division) in 1989 as a technical officer. Building on his expertise and experience in parks and recreation management and horticulture, Peter quickly gained an MSc Biology from University of Missouri (1993). Peter then worked on Carmichaelia (Fabaceae) and in 2000 gained a PhD from University of Canterbury for that work. Peter's leadership roles included a time as Allan Herbarium Curator and most recently as Research Leader of plant systematics.
Peter developed into one of New Zealand's foremost botanists during his time at Landcare Research. He published 155 journal articles and 4 book chapters on taxonomy, nomenclature, biogeography and phylogeny of New Zealand plants. Peter discovered and described 80 new plant species. His research programme on Pachycladon, a leading model plant for understanding the origin of the New Zealand alpine flora, is especially noteworthy.
We wish him well in his new position.
Landcare Research advertised for a new plant systematics research leader in early April.
~Ilse Breitwieser and Rob Smissen

Recent incursion of Velvetleaf in New Zealand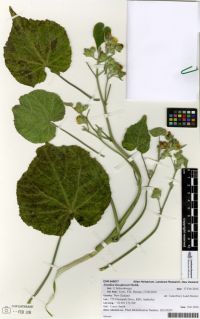 Velvetleaf (Abutilon theophrasti) was introduced to North America from China in the 18th Century. Now it has become North America's foremost broadleaf weed in maize and soya bean crops. It grows to 2.5 m tall, and is particularly competitive and persistent in cultivated fields. It reduces crop yields by up to a third, costing farmers hundreds of millions of dollars in control and lost production.
In February, an ECAN Biosecurity Officer found an infestation in a fodder beet crop near Amberley, North Canterbury, and sent a specimen to the Allan Herbarium for identification. This is the second South Island record, the first being a very early record from Lincoln! The other two previously recorded infestations were found near Papakura and at Waihou in the Waikato. The latter was well established, growing both in the crop and along the fence lines. Since then it has spread further afield, probably with seeds in maize silage.
Velvetleaf plants have now been found in fodder beet crops all around the country, as a result of contamination of imported seed. Since the initial specimen from Amberley, the Allan Herbarium has received and accessioned 12 further specimens from Southland, Otago, Canterbury, Marlborough, Wellington, Hawke's Bay, and South Auckland.
The Ministry for Primary Industries (MPI) and partner organisations have now published information alerting farmers and others to this weed. Anyone finding suspected velvetleaf should call the MPI Pest and Diseases Hotline immediately (0800 80 99 66). MPI has also produced a fact sheet, which uses two images provided by the Allan Herbarium. The Amberley record of this plant has been digitised (above) and made available through the Systematics Collections Data portal.
~Ines Schönberger, Herbarium Manager
Recent publications involving Allan Herbarium researchers
Kramer-Walter KR, Bellingham PJ, Millar TR, Smissen RD, Richardson SJ, Laughlin DC 2016. Root traits are multidimensional: specific root length is independent from root tissue density and the plant economic spectrum. Journal of Ecology (In press.)
Beever JE, Fife AJ 2015. BioBlitz 2015: Pourewa Reserve and Kepa Bush, Auckland–mosses. Auckland Botanical Society Journal 70(2): 130–132.
Dawson M 2015. New smartphone app for identifying native orchids. Trilepidea: Newsletter of the New Zealand Plant Conservation Network 145: 1–3. http://www.nzpcn.org.nz/publications/Trilepidea-145-151220.pdf
Dawson M, Rolfe, J, Pratt M, St George I 2015. NZ Orchid Key: a new smartphone app for identifying native orchids. New Zealand Garden Journal 18(2).
Dawson M 2016. NZ Orchid Key: a new smartphone app. NZ Native Orchid Journal 140: 3–5.
In addition, eFlora treatments of nine families, including representatives of mosses, ferns and lycophytes have been recently published. These can be found at http://www.nzflora.info/publications.html. Examples include:
Brownsey PJ, Perrie LR 2016. Hymenophyllaceae. In: Breitwieser I, Heenan PB, Wilton AD eds. Flora of New Zealand–Ferns and Lycophytes. Fascicle 15. Lincoln, New Zealand, Manaaki Whenua Press. 89 p. http://dx.doi.org/10.7931/B1QP4Z
Fife AJ 2015. Mitteniaceae. Heenan PB, Breitwieser I, Wilton AD ed. Flora of New Zealand. Mosses. Fascicle 23. Lincoln, New Zealand, Manaaki Whenua Press. 15 p. http://dx.doi.org/10.7931/B1PP4N