Water quality issues at the regional scale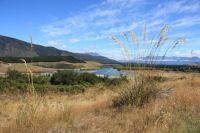 What is the problem?
Regional councils are charged with managing the cumulative effects of land use on water quality. With the promulgation of the National Policy Statement for Fresh Water and the recent release of the second Land and Water Forum Report, there is an urgent requirement for better knowledge and more effective mechanisms for managing land-use impacts to meet water quality limits.
How did we approach resolving the problem?

With our close working relationship with Environment Canterbury (ECan) we have deepened the mutual understanding of the cumulative effects of diffuse contamination sources on water quality and of planning issues in managing these effects. This has resulted in a package of contributions to the problem, including the following:
In a simulated study we showed that current methods and technology for measuring leachate under grazed pasture are woefully inadequate. This is of critical importance given these data are used by researchers to develop and evaluate farm-scale leaching models, and some regional councils are hoping to ensure compliance with nutrient discharge limits through such measurements.
We developed a new method for allocating a catchment-scale nutrient limit between farms. This method focuses the requirement for more intensive mitigation practices on those land areas where there is a nitrate contamination problem, i.e. intensive land use on leaky soils in catchments known to have poor water quality.
In collaboration with Lincoln Ventures Limited, we have developed a spatial model (AquiferSim) to understand the effects of potential land-intensification options on water quality in aquifers and spring-fed streams.
New spatial models of contamination risk help landowners determine where mitigation land management practices are needed, and enable regional councils to apply more appropriate consenting rules for effluent disposal and septic tank discharge fields.
Who has adopted our innovation?
Environment Canterbury, Environment Southland, and Greater Wellington Regional Council are all users of these ideas or models. The vulnerability models have now been implemented in the S-map Online factsheets, so are now freely available to everyone.
What impact has this innovation had on adopters?
Our regional maps of estimated nitrate losses were used in the Strategic Framework document for the Canterbury Water Management Strategy to highlight the impact of intensification due to increased irrigation. Statistics derived from these estimates were used in a Section 32 report for the notified Canterbury Land and Water Regional Plan. The proposed allocation approach has stimulated much discussion between ECan and industry representatives. An AquiferSim case study project contributed to ECan's Land Use and Water Quality Project, a collaborative process with stakeholders that resulted in the Hurunui and Waiau River Regional Plan.