Section 2. Business - as sustainability innovators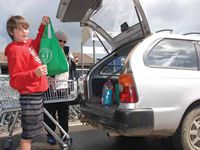 The second section considers businesses as sustainability innovators.
Businesses have the capability, creativity and resources to adapt and capitalise on future change and we found some of the most significant shifts in the last six years within the business sector. Globally, sustainability reporting is now a mainstream management and communications tool for large companies – with nearly 80% of the largest 250 companies publishing reports. In New Zealand the development has been more tentative, but the rewards in overseas markets for businesses that engage with sustainability issues (climate change especially) has led many to be innovative in the product, service and business models.
Chapter 6. Foodmiles: fact or fiction?
How do New Zealand's exporters innovate for a world of sustainability conscious consumers?
Chapter 7. Changing the game: organisations and sustainability
Why and how do organisations change to integrate a sustainability agenda?
Chapter 8. Our journey from unsustainability: reporting about Landcare Research reports
Landcare Research's experiences at integrating and reporting on sustainability
Chapter 9. Coming of Age: A global perspective on sustainability reporting
Allen White co-founded the Global Reporting Initiative. Here he gives us his perspective on where corporates are taking sustainability reporting
Chapter 10. Sustainability and Māori business
Learning from the cultural practices and experience of tangata whenua
Chapter 11. Life cycle management
Embracing the new design constraints and opportunities that arise in a supply-chain-conscious trading system
Chapter 12. carboNZero
A global programme that helps businesses tackle their carbon footprints
Chapter 13. Greening the Screen
The NZ Film Industry's world-leading industry environmental management programme
Download Section 2

(1.54MB)