Home

»

Digital soil mapping
Digital soil mapping – improving understanding of a key resource

More than one-quarter of New Zealand's GDP is dependent on our soil but information about this critical resource, essential to maximising land productivity and minimising environmental impacts, is incomplete for much of the country.
S-map, the national soils database, covers many of New Zealand's most productive regions but there is limited funding available to extend coverage into the hill country using traditional pedology approaches, which involve digging a lot of holes to assess soil profiles.
In some part of the country, where land has been highly tectonically altered and there has been considerable erosion, it is almost impossible to develop accurate, detailed soil maps in the traditional way.
Innovative new approaches
For more than 15 years we have been researching approaches to Digital Soil Mapping (DSM), where a range of data from different sources are integrated to create an accurate understanding of soil distribution. Although DSM is well-established internationally, the overseas techniques are not relevant for New Zealand soil mapping. For example, we needed to achieve approximately a 16-fold increase in detail over the main Australian DSM approach to produce meaningful soil information to support farm planning.
The solution has come from integrating the expertise and technology from four different areas of Landcare Research: soil pedology, remote sensing, geographical information systems (GIS) and statistical modelling.
The key breakthrough has come from LiDAR (the use of airborne laser to accurately measure distance by illuminating a target and analysing the reflected light.) We took LiDAR, which is well established, and developed intelligent remote sensing technology that translates the data into cost-effective Digital Elevation Models (DEM) of land. A DEM provides the understanding of soil landform relationships critical to soil mapping.
We added Vis-NIR spectroscopy, a field scanning technique that provides insights about the properties and attributes of the soil, and the geological features below. We weaved in the modelling approaches and GIS for the spatial representation of information, and coupled that data with the on-the-ground expertise of our experienced soil scientists. The result is accurate, cost-effective digital soil maps.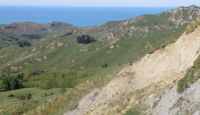 This technique was successfully used to provide Hawke's Bay Regional Council with a 1:25,000 scale digital soil map for 46,000 ha of coastal Hawkes Bay hill country from Cape Kidnappers down to Aramoana. The area was subject to extraordinary rainfalls and an earthquake which caused widespread severe erosion two years ago. The land is also geologically complex, with many years of tectonic movement having had a 'cake mixer effect' on the terrain.
Proving popular
Following on from the successful coastal hill country project, Hawkes Bay Regional Council has commissioned us to complete further digital soil maps in key catchments such the Tukituki. We are also using digital soil mapping to help Auckland Council assess flood plain risk.
The success of the initial coastal Hawkes Bay project has other North Island councils interested in digital soil mapping, as much of the productive land mass that is yet to be covered by S-map is hill country. We are currently working with Waikato Regional Council over detailed mapping of the Waipa catchment.
We are even applying digital soil mapping techniques to get a better understanding of microbial habitats in the Dry Valleys of Antarctica.
Quality mapping at a reduced cost
A thorough understanding of soil is crucial for farm plans aimed at improving land productivity and better environmental performance.
New Hawkes Bay digital soil maps will be a significant improvement on previous maps available for the region, and will assist with the modelling of nutrient, erosion and hydrological dynamics within the catchments, and aid the production of farm plans and on-farm decision making.
Our S-map online resource is currently used by MPI, councils, farmers and farm consultants, fertiliser suppliers, and forestry companies. But coverage is limited. Our development of digital soil mapping techniques addresses the single biggest impediment to expanded coverage – cost.