Irrigated dairying can increase soil carbon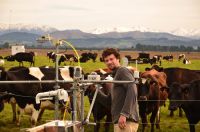 Johannes Laubach, John Hunt and Rebecca Phillips
Globally, soils store more than four times as much carbon as plant biomass and so play a critical role in the global carbon cycle. Small changes in soil carbon balance can potentially have large impacts on atmospheric carbon dioxide levels and so influence climate change. In New Zealand, the dominant land use is continuously grazed pasture that has relatively high soil carbon stocks. Management is crucial for determining whether soils gain or lose carbon, and there is considerable potential for further carbon storage in New Zealand soils.
From 1989 to 2014, the land area used for dairy production almost doubled and, with the Government's willingness to invest up to $400 million in irrigation schemes nationwide, dairy production will continue to increase. In Canterbury, further conversion from extensive dryland pasture management to intensive dairy management is expected with substantial investment in irrigation machinery. The impact of intensification of dairying on soil carbon stocks is unknown.
Comparing improved and unimproved sites on a commercial dairy farm
For this research, we compared improved pasture (pivot-irrigated, fertilised, rotationally-grazed) and adjacent unimproved pasture (unirrigated, used for winter grazing) on a mid-Canterbury farm that was converted from dryland farming to irrigated dairying a few years ago. At both these sites, we continuously measured CO2 exchange in situ, dry-matter production, pasture consumption, precipitation and evaporation. With the co-operation of the farm's owners (Synlait Farms, now renamed Purata), we also recorded all farm management activities relevant to constructing carbon and water budgets.
This is the first such paired-site study, and the first to include irrigated pasture, at the paddock scale on a commercial dairy farm in New Zealand.
Positive results
In the first year, the improved, irrigated pasture gained more carbon from net CO2 uptake, excreta deposition and fertiliser application than was removed by grazing and leaching; hence the pasture was a net carbon sink. By comparison, the unimproved pasture experienced a small carbon loss (near-neutral).
This implies intensive dairy practices may have the co-benefit of enhancing soil quality, at least in the short term. However, further investigation is needed to see whether this will hold true over the long term. If it does, there may be potential for reducing atmospheric CO2 concentrations and offsetting some fraction of the net greenhouse gas emissions associated with milk production.
The study also showed that improved pasture was considerably more efficient in using water (gross CO2 uptake per total water input) to produce biomass. Soil moisture measurements suggested that managing the timing of the irrigation is crucial to achieving this high efficiency, but fertilisation and grazing management also influenced water-use efficiency by keeping the grass in a juvenile growth stage.
Synlait Farms have been particularly interested in the links between greenhouse gas emissions and plant productivity, and were delighted to see our combined carbon and water budgets showing benefits of irrigation, fertilisation and grazing scheduling.
'Green growth' in the dairy sectors
Large scale studies like this one on a commercial, dairy farm will help encourage the dairy sector to optimise water use, productivity, soil carbon and soil quality and hence support New Zealand's 'greener' credibility in local and international markets. One of the seven focus areas in the Government's Business Growth Agenda (economic growth through sustainable use of natural resources) is transitioning to a low emissions economy while improving productivity.
The research is timely, given the Government has stated that it sees "potential for an extra 420,000 ha of land across New Zealand to be irrigated by 2025, creating thousands of new jobs and boosting exports by $4 billion a year" (Nathan Guy, Hon. Minister for Primary Industries, October 2014). It is vital for New Zealand that this strategy for wealth creation does not come at an environmental cost that would counteract these benefits. Questions of sustainability are complicated, and this study reports carbon and water. Further studies that include nitrogen are needed.
Wider relevance
In addition to encouraging farm managers to modify or fine-tune their practices (e.g. timing of irrigation and grazing) to optimise production efficiency and minimise environmental impacts, there are two other groups of stakeholders for whom this study is of particular relevant:
Policymakers who require data and tools to understand the environmental consequences of management scenarios on dairy farms, and to assess the regional impact of intensive dairying expansion.
The research community who have shown interest in using these results for:

Synthesis studies of the impacts of agro-ecosystems in Australia and New Zealand (one on carbon and water cycling in preparation, led by Australian colleagues; one on soil carbon responses to New Zealand farming practices, led by the University of Waikato).
Developing spatial models driven by site, climate and management variables in order to understand the impacts of farming practices on environmental services.
Modelling soil processes and developing soil maps across New Zealand.
These results are described in a manuscript submitted to the journal 'Agriculture, Ecosystems and Environment'. Publication will make the data more widely accessible and encourage further research.
Key research collaborators
Lincoln University, University of Canterbury, University of Waikato, NIWA
OzFlux facility of Australia's Terrestrial Ecosystem Research Network (TERN)
Synlait Farms (now Purata) supported this research in-kind by providing access, farm management records, paying for power used, and notifying us in advance of grazing events.
When Adopted: